I've reviewed a variety of Halloween novelties from Morbid Enterprises over the years, as they produce the kind of items that anybody would drool over. Whether it's a floating Slimer with exaggerated butt cheeks, or a giant inflatable Stay Puft Marshmallow Man, they never seem to disappoint. One of their most recent October offerings is also one of my favorites to date, and I'm going to be giving two of them away to some lucky winners. But first, let's take look at the subject of today's entry:
Behold the Trick 'r Treat Animated Sam plush toy! I was really excited when I first saw this thing promoted, not just because I have an ever-growing collection of Sam toys, but because it's probably the most adorable one I've seen so far. The best representation of Sam will always be the original Sideshow Collectibles figure, but considering that one was extremely limited in release and it now goes for $500+, you'll probably want to find an alternative. I suggest this fella. (more...)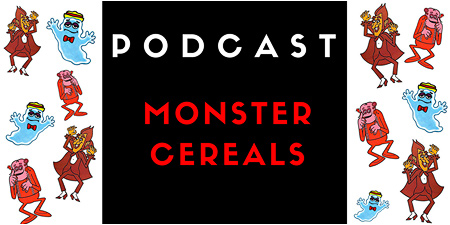 I was recently invited by the nice folks at General Mills to join in on their special Halloween season Monster Cereals podcast and discuss my long history with Boo Berry cereal. It's a really fun podcast featuring talks with a variety of Monster Cereal fans, the artists behind some of your favorite boxes, and even the guy who's been doing the voice of Count Chocula since the late seventies. You can listen to it in the player below:
It's also available to listen to on iTunes. Hope you enjoy it, and big thanks to General Mills for having me be a part of the talk!

Last year, we decided to go visit some family back in New York and make a fun Halloween season trip out of it. You may recall my article from last season about the Monster Mini Golf course we visited while on Long Island. Well, that was just one of our spooky seasonal stops last October, and since I didn't have enough time to cover our other excursions back then, I wanted to tell you about a special haunt we paid a visit to that's well known to people throughout New York state: The Headless Horseman Hayride and Haunted Houses!
I had read about this haunt on numerous occasions, and everything I had read made it sound like Headless Horseman was the greatest independent haunt on the east coast. Naturally, I had to check it out. So, after spending some time in upstate New York, we made plans to stop by their location in Ulster Park on our drive back down to Long Island. And I gotta say, pulling up to their huge 250-year-old family farm had me really excited from the get-go.
I mean, come on... how could you not get excited by seeing that sign at the entrance? It even has 666 in the phone number and spells out "boo". Excellent. (more...)