Just a quick note today... I wanted to let you guys know that we've just updated our MonsterTime game. For those of you with accounts on Newgrounds, we've just added a whole slew o' medals to the game, so now you can rack up some major medal points just by playing the game. Some are easy to get and others, such as the medal for scoring 200,000 points, will separate the gaming gods from the mere mortals of MonsterTime. So login to your account on Newgrounds and start earning those medals. You might as well brush up on your gaming skills anyway since we have another game coming out in late December!
Play MonsterTime here:
www.newgrounds.com/portal/view/516468
In other news, our Christmas holiday site redesign is up so you can all feel a bit more festive now. Ho, ho, ho!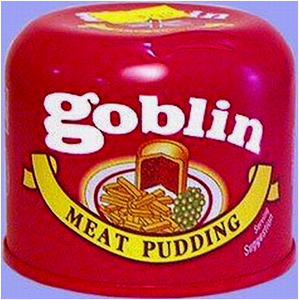 Whether you're in the States or elsewhere in the world, I hope you're all having a spiffy turkey day. May it be filled with meals that are far more scrumptious than Goblin Meat Pudding. I'm sure I'll be watching Planes, Trains & Automobiles before the day is done as it's a Thanksgiving tradition, and I suggest you all do the same. Also, I thought all of you might like to know that I-Mockery's FIRST Christmas-themed game ever is currently in production, and I can't wait to unveil it to you guys next month once it's finished! It's going to kick you in the jingle bells so damn hard, you'll be puking up mistletoe and eggnog before you know it.
Anyway, back to feasting! (more...)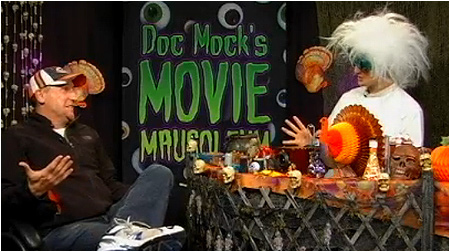 Man, that was a hell of a good time on Friday night. I hope most of you guys were able to catch the episode live, but if not, no problemo. Our Thanksgiving episode with special guest Matt Walsh is now archived online. Even those of you who did watch it live didn't get to see the entire episode since the network temporarily banned us because things were getting crazier than they expected. No worries though, we had the entire show backed up locally so anything you missed is included in the archived episode. Big thanks again to Matt Walsh for joining in all of the rootin' tootin' turkey shootin' excitement of our Thanksgiving episode! Still can't believe we had him on the show... talk about something I'll never forget. Alright here be the links to the archived show...
Matt Walsh Thanksgiving - Part I:
http://www.thestream.tv/watch.php?v=1898
Matt Walsh Thanksgiving - Part II:
http://www.thestream.tv/watch.php?v=1916
Don't forget, all of our new episodes are now available for free download on iTunes!
We'll be back this Friday, December 4th with an all new LIVE episode for you to watch and join in the chat room madness! After all, you wouldn't want to miss post-show moments like this: (more...)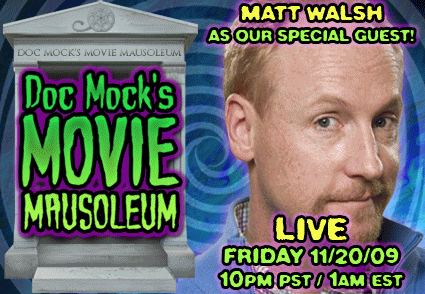 You can watch the show and join in the live chat room fun at any of the following URLs at 10pm PST / 1am EST:
http://www.thestream.tv/live.php
http://www.justin.tv/thestreamdottv
Matt Walsh. You've seen him as a part of the Upright Citizens Brigade. You've seen him on The Daily Show. You've seen him in films including "Old School" and "The Hangover". You'll soon see him on his new show "Players" too... but before you see him anywhere else, you're gonna see him LIVE on Doc Mock's Movie Mausoleum this Friday night, November 20th at 10pm PST as our special guest! Yep, he'll be watching a crazy movie with us and I couldn't be more excited about it. He's an extremely talented guy and I'm sure we're all going to have a blast this Friday night.
This also being our final episode before we go on a 1-week break for Thanksgiving, we have a few more surprises in store for you guys. If you have any questions you'd like to ask Matt, you should definitely catch the show live so you can send 'em in via the chat rooms. If you have plans, cancel 'em, because you don't wanna miss this episode! Hope to see all of you guys there this Friday night!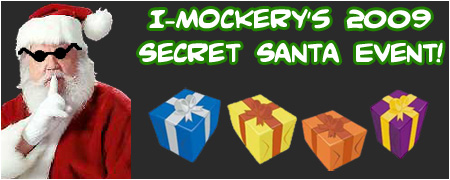 Hey guys, just a quick ho-ho-ho-head's up for ya today. Our annual Secret Santa event on the forums has just begun, so if you'd like to participate in some good old fashioned holiday gift giving (and receiving) with other I-Mockery members, be sure to sign up in the thread! The earlier you sign up, the better... especially if you're a relatively new user since there are some verification steps you'll have to go through. And yes, if you live outside of the U.S. you can still participate in the event, no problemo. Furthermore, if you participated last year, all you have to do is follow the simple sign-up procedure and you'll be in. By the way, I'd like to extend a big thanks to 10,000 Volt Ghost for helping keep the event organized this year.
The deadline for signing up is Tuesday, November 24th, so hop to it!

In addition to being a part of the chat rooms, one of the reasons I always tell people to try to catch Doc Mock's Movie Mausoleum live is because there are often things going on in the pre-show and post-show that aren't usually archived with our episodes. It's already a two-hour long show and the files for it are pretty huge, so to archive all that other footage along with it would just be too much. Fortunately, every now and then we're able to save a good clip or two from those pre-shows and post-shows, so I thought I'd share a little bit of the nonsense that took place in the control booth just the other night.
There's another clip after the jump. (more...)