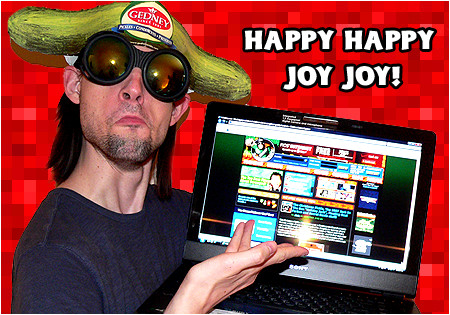 Notice anything different? Yes indeed, the huge redesign we've been working on for waaaaaaaay longer than I care to admit is finally up and running! Considering how long it's taken us to get this massive project off the ground, it's really exciting to finally unveil it to you guys.
So what exactly has changed on this big crazy place we call I-Mockery? Well, lemme break down all the new features for you:
-A New Site Layout: As you can tell, the site has a much nicer (and wider) design. The days of 800x600 screen resolutions are a thing of the past and I'm more than happy to help push the envelope as far as that stuff goes. This new design not only looks better and loads faster, but it's also allowing us to fit a whole hell of a lot more fun content on the site. I gotta say, it's really nice to finally be able to go to all the different sections of the site and see everything in a more unified style.
-The New "Weeklies" Section: If there's one thing I've been really looking forward to with this redesign, it's gotta be the launch of this brand new "Weeklies" section. This new area is divided up into 4 categories - Video Games, Movies, Comics and Music. So what in the hell makes this new section different from all the other content on this site? Well, frankly it's a fun way for us to talk with you guys about all the stuff we love (and the stuff we love to hate) as we rate each thing on a 1-5 pickles scale. In addition to our regular articles on I-Mockery, we'll be updating each of the 4 Weeklies categories with at least one new review per week! Which leads me to the next feature... (more...)

The Christmas Pickle. If there was ever a Christmas tradition that had I-Mockery written all over it, it's gotta be this. Imagine my surprise when I was walking through the Christmas holiday aisles at Target and I find a whole shelf filled with Christmas Pickle ornaments - each in their own clear plastic cases for safekeeping! For those of you who are unaware of the history behind Christmas Pickles, allow me to explain what this awesomely oddball tradition is all about.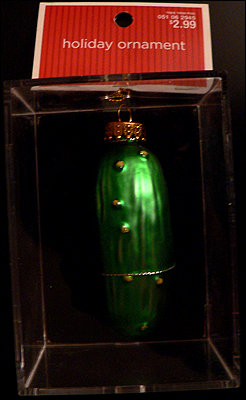 Sorry about all the blog silence lately, I've just been swamped with work on our huge site relaunch. It's one of those projects that you can't wait to show people, but it never seems to end because you always find more things that need work done. But man oh man, the site is gonna be one hell of a fun place to be at once we get all this new stuff goin!
The good news is, even while all this site relaunch stuff is going on in the background, we're still cranking away on a flurry (ho ho ho) o' Christmas holiday articles for this month. I've got a big feature that should be coming out later this week or early next week... and it's about an old flick I've been meaning to cover for a loooooooong time. Looking forward to putting the wraps on that one. Well anywho, it's 3:15am and that means I should be doing one thing. No, not sleeping! There's more work to be done on the site relaunch!
But before I go, I must leave you with a few photos from our recent Thanksgiving feast since I promised them to you guys earlier and I'm a man of my word. And as you're about to see, bird is the word...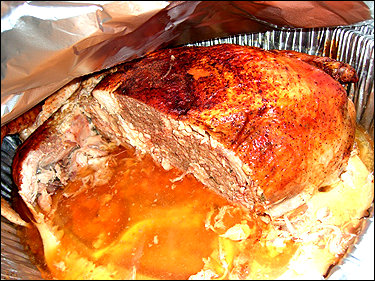 Turkey + Duck + Chicken = Turducken!