Damned New Years Resolutionists.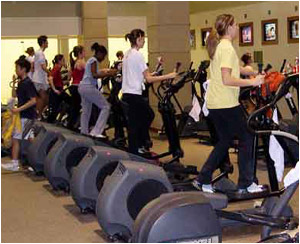 You know what annoys me the most about this time of year? New Years Resolutionists. There's always someone at my work who's decided once and for all to change their lifestyle and go on that diet, but within a week they're back to gorging themselves on whatever free shit just happens to be up for grabs on the free-for-all counter in the kitchen.
These people are so not-serious about changing their lives that they have to actually wait around until the big event, the ball drop, the calendar flip, even though they started cooking up their Grand Scheme of Change on December 11th; it just wasn't time yet. Gotta have that one last hurrah, that last holiday supper of Henry VIII proportions, that one last prostitute with an eye patch, potbelly and wooden leg. Only after they've gotten it out of their system will they be ready. I'm tired of hearing people talk about it.
But the real reason they bother me so much is that they come out in droves this time of year and hit the gym all at once. After a week of feeling sickly, I went to the gym last night for the first time since the New Year and there they were, waiting for me. Just for the privilege of using one of the ellipticals or exercise bikes, I had to wait in a Depression-scale breadline, and by the time a piece of cardio equipment actually freed up, I had actually already lost a pound from sheer attrition.
The thing is, 50% of those people will be gone by the end of January, never to set foot in a gym again, until perhaps the next New Year. By the end of March a full 90% of them will be gone and won't be back. These are scientific numbers that I just made up, but you know as well as I do that they are completely accurate. In the meantime, until they realize that they're not serious about making a lasting lifestyle change, they're just wasting my time and getting in my way.
So what kind of New Years Resolutionists do you guys find annoying?
34 comments
Leave a Reply
Previous post: In Which I Consider The Writer's Strike
Next post: My New Aquatic Pets