We're back from New Orleans and it was a hell of a nice trip. Great food, cool sights, and some really nice people. Thanks to all of you who posted in the blog over the past week with great suggestions for places to check out while we were in town! I'm sure I'll be posting a big photo gallery from that trip at some point, but I do believe I owe you guys a giant San Diego Comic-Con photo gallery first. So while I'm putting the wraps on all those pics with the other guys, I thought I'd help you pass the time by sharing this nice interview that Sam Proof did with us at our Comic-Con booth. The audio is a little wonky in parts due to some people talking about our merch and playing our new game demo in the background 'n all, but I'm sure you'll be able to hear everything aok and you'll get to see some o' Max Burbank, Protoclown and Dr. Boogie as well!
Hope you enjoy the interview and thanks again to Sam for stopping by our booth. And don't worry guys, the gargantuan 28-page Comic-Con photo gallery will be up by mid-week at the latest. This I command!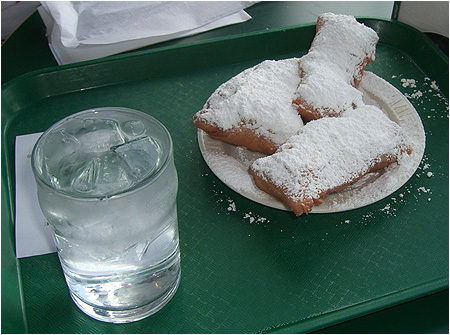 Thanks to all of you who've been commenting on my last blog post with great suggestions for things to check out while we're here in New Orleans this week! Since a bunch of you brought up the Beignets from Cafe Du Monde, I decided to check 'em out. As you can see in the photo above, they're pretty insane. Why? Because it appears that the entire world's supply of powdered sugar rests on top of every order. With each order, you get 3 hot 'n tasty beignets that are absolutely covered in powdered sugar. I couldn't even finish it all because it was just so filling. But you guys were right, they're a lot like funnel cakes. Good stuff and thanks for the tip.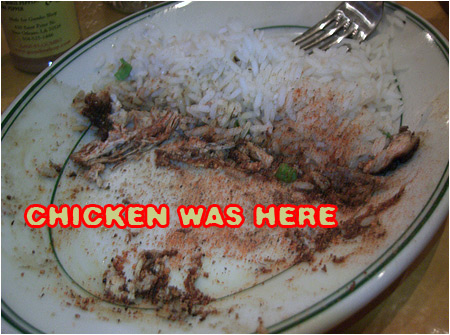 Per the recommendation of a local, we went out for dinner to an awesome little place called The Gumbo Shop. I love me some spicy chicken, and their blackened chicken was just as badass as I had hoped. I covered it in their homemade creole seasoning and pepper blend and cleaned that plate off in a heartbeat. Might have to stop by there again before I leave town. If nothing else, I'm gonna order some of their spices from their web site.
Anywho, I'm heading off for now, but I'm sure I'll have some photos to share with you guys when I get back. And don't worry, I'm still working on the huuuge Comic-Con photo gallery when I'm on a break at the hotel, so that's coming soon.
I'll be checking the blog randomly throughout the week, so keep those suggestions coming for places to see and food to eat! Talk to ya soon. Jambalaya!
p.s.: Sorry if this post made you guys extremely hungry. If you close your eyes and lick your screens, you can almost taste the Cajun flavors.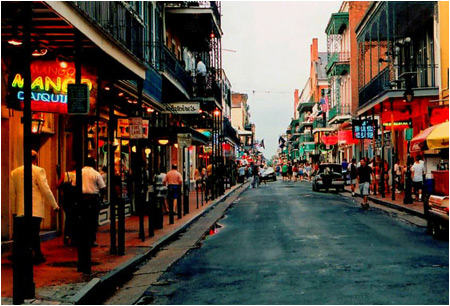 So I'm headed to New Orleans this week with Re because she was already going to the Siggraph convention being held there and we decided to make a little vacation out of it since neither of us had been there before. With that in mind, I'd like to open up this blog post to hear some suggestions for what we should check out from those of you who've visited or reside in New Orleans. Cool places to see, great restaurants to eat at, best place to buy a voodoo doll to torture my friends with, etc. etc. Please share thy wisdom!
In unrelated news, our huge Comic-Con photo gallery is coming along nicely and should be up sometime early in the week. Trust me, it's easily gonna be the largest gallery from the convention anywhere on the web, so it'll be well worth the wait.