Wonder Woman's New Threads.

I'm sure by now many of you have seen Wonder Woman's atrocious new costume. They took one of the most iconic, recognizable superhero costumes and basically turned it into what looks like a 1990s clubbing outfit (and a bad one at that). I have no inherent problem with changing classic costume, but in my mind superheroes should look bold, flashy, and iconic--not mundane and anonymous like this one here. On top of that, it looks like Jim Lee has basically ripped-off his own Rogue costume design from the early 90s. And seriously--are those stirrup pants? Did she raid Cobra Commander's closet or something?
Sure, they've altered other classic costumes before, Superman's and Batman's for example, but the changes that stick tend to be more subtle evolutions that occur over time. The drastic changes tend to be temporary at best (see Spider-Man's various costumes over the years), and often times if the fan backlash is strong enough the editorial department will pull the old "Haha, we were only joking guys, it was only meant to be for two issues even though we made such a big deal out of it at the time, but this was our plan all along, see?" card.
I'm curious to know what you guys think of the new costume, as well as your thoughts on various heroes' costume changes over the years. What ones have you liked? What ones have you hated?
I asked my Henching artist Shironu Akaineko to whip up an alternative to the new Wonder Woman costume, and this is a design that she and her friend Kevin Eckert came up with: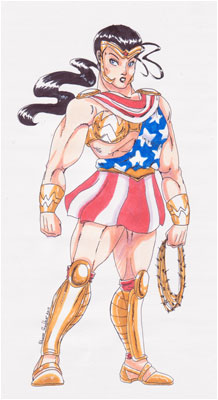 So I want to challenge any of you who have artistic abilities (or even if you don't) to come up with your own alternative costume designs to illustrate how much Jim Lee's new Wonder Woman design totally sucks. If you whip something up, post it in the comment section, or even if you just discover a better alternate design on the web, feel free to share the link below!
41 comments
Leave a Reply
Previous post: Lloyd Kaufman Appearing LIVE On Doc Mock! Thursday, June 24th @8pm PST / 11pm EST! Enter Our Contest!
Next post: Oh The Rewards To Come…