The Astro-Weenie Christmas Tree!
I was watching Conan O'Brien recently when one of his guests (Charles Phoenix) came on to have him help recreate a retro relic from the holiday seasons of yesteryear. This wasn't just any old find... it was something I had never seen before, yet I instantly fell in love with it. I am speaking of the Astro-Weenie Christmas Tree! According to Charles, he spotted it while looking through some of his vintage Christmas slides. Upon seeing this glorious shiny silver space age centerpiece covered in a variety of edible delights, I simply knew I had to try making one of my own. Today, I share with you the steps to making one so you too can create this fantastically festive fandangle.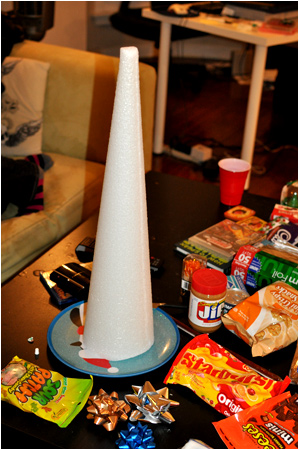 First thing you need is a styrofoam cone. I figured it wouldn't be a big deal, but it turns out styrofoam cones don't run cheap. It cost $15 for the large styrofoam cone at our local Michaels craft store. Sure, we could've gone with a smaller one... but when it comes to building an Astro-Weenie Christmas Tree, you can't skimp on any of the supplies, nor can you let the absurdity of spending $15 on a piece of styrofoam dissuade you. The holidays are all about giving, so just think of your Astro-Weenie Christmas Tree as your gift to the world, rather than a futuristic snack holder hell-bent on draining your holiday funds.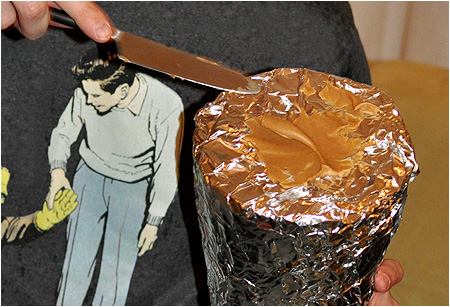 Once you have your cone, you need to wrap it in tin foil and then slather the bottom with peanut butter. I know that sounds weird, but the peanut butter serves as a glue to hold the cone to the plate, and it's the difference between your tree being a huge success or toppling over and ruining Christmas forever. Now there are different schools of thought on whether you should spread peanut butter on the bottom of the cone itself, or to cover the bottom with tinfoil and then put peanut butter on it. While sticking it to the cone will definitely make it hold even stronger, I prefer to put peanut butter on the tinfoil, because then you can reuse the cone in the future. Hey, if you're gonna spend $15 on a piece of styrofoam, you might as well make it last long as possible. One thing I won't argue with is that you should use creamy peanut butter to affix the cone to the plate instead of chunky style. So, with your tree sealed to the plate with peanut butter, it is now ready to be transformed from tinfoil-wrapped styrofoam cone to the greatest hors d'oeuvres display in the world.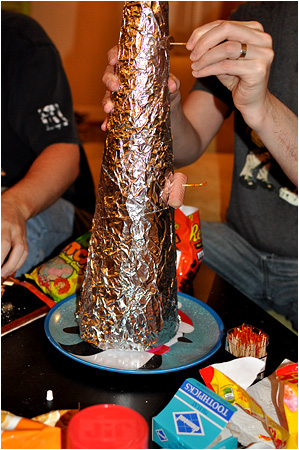 Decorating the tree isn't hard at all; you simply need to pick out a variety of snacks you like and stick them to the styrofoam cone with toothpicks. While you can choose whatever snacks you want, there is clearly one vital treat that must appear somewhere on an Astro-Weenie tree: cocktail wieners. While I'm not a fan of cocktail wieners, I must respect the historical importance of adding them to the tree. That said, nobody wants "weenie juice" dripping all over the other snacks pinned to the tree, so the strategy is to keep the weenies low on the proverbial totem pole. By doing this, the weenies can still be enjoyed by anybody who wants 'em while not tainting the other snacks.
As for the other treats, we chose a good mix of snacks for the Astro-Weenie Christmas Tree: Hostess powdered and crunchy mini donuts, Sour Patch Kids, Reese's mini peanut butter cups, Starburst fruit chews, mini cheddar rice cakes, sliced pieces from a Slim Jim and a few marshmallow snowman Peeps. In other words: a lot of sugar. It takes a while to decorate the tree completely as there's a lot of surface area to cover, and the last thing you want is an Astro-Weenie Christmas Tree with a lot of blank patches. Just like a real Christmas tree, you want it to look full and healthy, so you really gotta pack your tree with more food than you and your holiday guests should ever eat. But hey... it's the holidays, so indulge yourself.
I'm proud to say that our first Astro-Weenie Christmas Tree was a huge success. BEHOLD!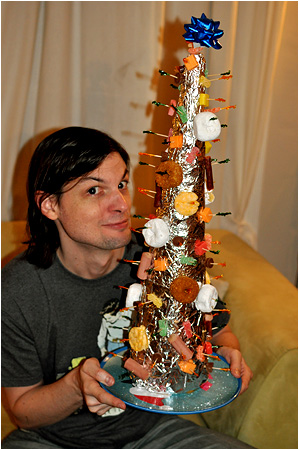 I think it's safe to say we have a new holiday tradition on our hands here folks. Well, it's apparently an old tradition, but it's time to bring it back and make it part of Christmas every year. Sure, decorating a regular tree is nice 'n all, but wrapping a styrofoam cone in tinfoil, slathering the bottom with peanut butter and then jabbing a variety of treats into it with toothpicks to create the ultimate holiday centerpiece? My friends... it just might be better than getting a boatload o' presents from jolly ol' St. Nick himself. Don't believe me? Look how much it inspired us:
Whatever you happen to be doing over the holidays this year, I hope you all have a great time. And if you don't... add an Astro-Weenie Christmas Tree into the mix and I guarantee it will change your holiday experience in an instant. Aliens invented this weenie tree technology and they definitely know how to party.
11 comments
Leave a Reply
Previous post: 'Tis The Season To Be Snacking.
Next post: Christmas Aftermath 2010.