A Visit To Voodoo Doughnut.
So the first stop on the Keith Apicary "Apicarnage" tour was Portland, Oregon at Ground Kontrol arcade. This is an arcade I had been wanting to see since before I even moved out to the West coast, so I was pretty excited to check it out. What I had completely forgotten about was that Portland is also home to what may be the greatest donut shop on earth: Voodoo Doughnut.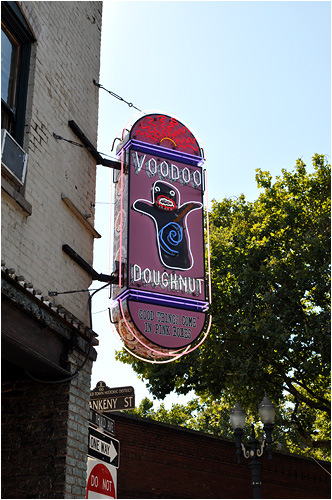 As soon as I arrived there, I knew it had to be a pretty good place since there were people lined up around the block just to get inside. Normally, I wouldn't spend 45 minutes waiting to get a box of donuts, but sometimes exceptions must be made. After all, this is a place that serves everything from bleeding voodoo doll donuts to ones covered in Captain Crunch cereal and more.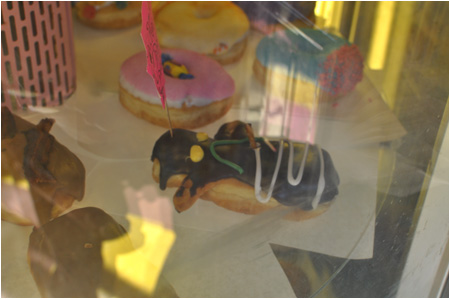 And it's not as if you're without entertainment while waiting outside. When you're not being asked for spare change from one of the seemingly thousands of homeless people who live within a square mile, you can laugh at the innuendo on the Voodoo signs such as "Good things come in pink boxes.", "The magic is in the hole!", "I got VD in Portland!" and more. Of course, the donut shop is stationed right next to a theater that apparently prides itself on showcasing hentai films late at night. Bubblegum flavored donuts and tentacle rape? That's a hell of a combo.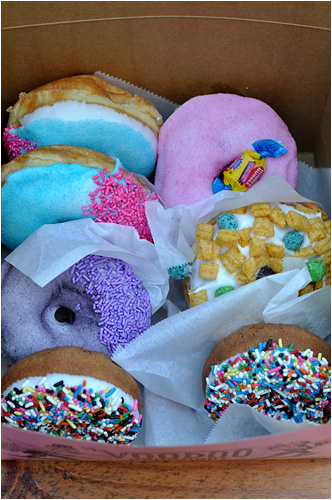 Once inside, the smell of those delicious donuts hits you and you can't help but order far more of them than you'll ever have time to finish. I picked up a nice variety of flavors including cotton candy, bubblegum, grape, Captain Crunch and some standard vanilla sprinkled ones. So far, they've been as delicious as they were in my dreams, and I can only assume that a voodoo priest cast a spell upon these donuts to make them so tasty.
But let's not forget that we're currently in the midst of Halloween season here on I-Mockery and you're not here to just here about a donut shop. Sure, voodoo can be tied to Halloween with a number of horror films (Serpent and the Rainbow being my favorite), but a huge smile came over me when my eyes happened upon this: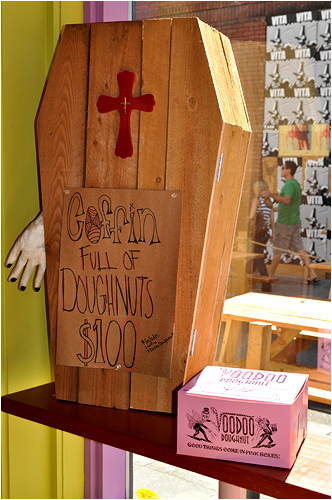 A donut coffin. I repeat: A DONUT COFFIN! Holy crapballs, this is something they actually sell!? Believe it or not, for $100 you can get a coffin filled with an assortment of Voodoo donuts. How incredible is that? Sure, it's completely overpriced and you could spend roughly $60 less and get the same number of donuts without a coffin, but it just wouldn't feel the same. We were tempted to get a donut coffin for ourselves, but the tour wagon is already so tightly packed that we're lucky to be able to fit in it with a regular box of donuts. Still, if I lived anywhere near Voodoo Doughnut, you can bet your finest jack-o-lantern that I'd be picking up a donut coffin to use as one hell of a centerpiece for a Halloween party come October.
Donut chains around the globe could certainly learn a thing or two from Voodoo Doughnut... they simply do everything right.
Before I go, I wanted to say thanks to the fans of I-Mockery and the fans of Keith Apicary for coming out to the Ground Kontrol and making it such a great first stop on the tour. It was great meeting everyone and we can only hope that the rest of the tour is even half as fun. Big thanks to the staff at Ground Kontrol too - their arcade is absolutely amazing and you can tell a lot of love went into everything in it from the game selection right down to the floor tiles in the bathroom that make it look like a Pac-Man screen. I'll be sure to post some pics of Ground Kontrol when I get a chance.
Now we're headed up to do a show in Tacoma, Washington (though by the time this blog post goes live, it will already be over) but have a few special stops to make along the way before getting there. More on that later. Hope you've all been enjoying the Halloween season updates on I-Mockery so far... we have loads more on the way, so stick around like the bloodthirsty goblins you know you are.
19 comments
Leave a Reply
Previous post: I-Mockery Going On Tour With Keith Apicary This Month!
Next post: I-Mockery's Keyword Guessing Game!