Some Things I Saw At The 2012 L.A. County Fair. Plus, Ghost World Toys!
In addition to showcasing the horrors of the L.A. County Fair, I also shot an extra video while I was there in which I scream my head off at just about everything in sight (including the haunted attractions). If you've seen my recent E3 and Anime Expo coverage videos, then you already know what you're in store for. Enjoy!

click here for high quality video]
In other Halloween news, I just picked up some vinyl toy Ghost Land ghosts at a local shop and I think they're pretty great: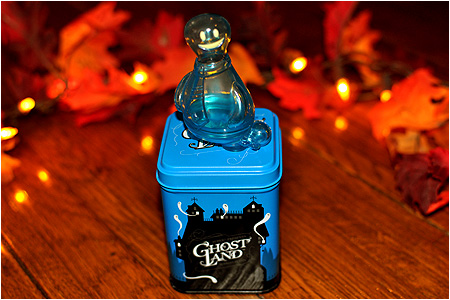 These blind box toys are made of translucent vinyl and come in really nice collector tins with silhouettes of a town haunted by floating spirits. The name of this particular ghost is called "Working Stiff" as evidenced by the tie, but you wouldn't think he had a boring office job, because he's just so damn happy. Here's what his tombstone epitaph from the booklet says: "Working Stiff: An office warrior who battled job cuts and haircuts until he became a victim to the daily grind." He sure looks upbeat for a ghost with a difficult past like that, doesn't he?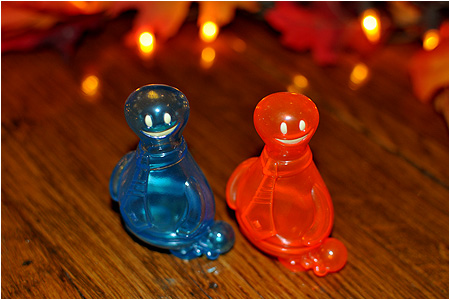 They come in a variety of colors and I had to have more than one (all ghosts should have a buddy to hang out with), so I went with the traditional blue and a more Halloweeny orange. I like to think that they're both part of a sponsored rideshare program, because they both want to cut down on usage of their cars, and so they'll have someone to talk to during the long commute. The daily ghost grind is far more bearable when you have a pal to go through it with you.
Other figures in the set include ghosts themed after alien cowboys, blowfish, two-headed monsters, and more. I highly recommend picking them up as they're pretty cheap (mine cost $5.00) and make great display pieces for any Halloween season and beyond.
10 comments
Leave a Reply
Previous post: Colgate's "Wicked Watermelon" Halloween Toothpaste. Plus, A New Contest!
Next post: The 20th Anniversary Halloween VHS Snow Globe Set: Glitter Blood!