Waffles or Pancakes?
My fellow mockers, I come to you today with another discussion topic that is of vital importance. It's a question with an answer that is long overdue...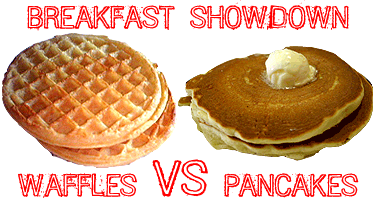 So what's it gonna be? Waffles or Pancakes? Make sure you back up your choice with supporting evidence... and syrup. Lots and lots of syrup.
In other news, some of you might like to know that I recently put up some archives of my work for National Lampoon. When they redesigned their site a while back, they apparently lost a lot of their old article archives that myself and a variety of other good writers (including Max Burbank and Jay Pinkerton) did. Well, fortunately I saved backups of most of my Lampoon pieces minus an image or two, and they're now up on I-Mockery. You can check them out here:
http://www.i-mockery.com/lampoon
Some of you probably never even saw those pieces, so you can pretend that it's a batch of brand new I-Mockery articles. Joy of joys!
I also wanted to mention that, the results from the Gymkata "flag ninja" contest have been posted, so be sure to check 'em out! Thanks to those of you who participated... we'll have more contests coming soon!
Anyway, let the Waffles vs. Pancakes discussion commence!
72 comments
Leave a Reply
Previous post: L.A. Mockers - I'll be at "The Hive" Saturday night!
Next post: Do you like a little MEAT with your ACTION?