Madness I-Mockery's forums!
If you've been waiting for the right time to register an account in our message forums to get to know some of the other regular I-Mockers, now might be the perfect time. The I-Mockery forums are always busy as can be, but there's some extra fun going on in them right now. First off we're holding a unique new contest:
Up for grabs is two brand new copies of "The Matrix: Path of Neo" for the PC, but with this contest we're trying something a little different. We're having people create a story by editing screenshots from the video game into other situations. Take a look in this thread and check out some of the hilarious pics that people have already come up with. So basically, not only do you get to create new photos using the video game graphics, but you get to determine where the story is headed next. The top two pictures in the story will be the winners of the contest. Entries will be judged solely on humor, and as you can see by the current entries, you don't need to be a Photoshop wizard to win this contest. You can use MS Paint for all we care, just have fun with it. This contest will end December 15th. Post as many photos as you like!
The Matrix: Path of Neo story contest:
http://www.i-mockery.net/viewtopic.php?p=365351
In other news, the 2005 Mock Wars have started in our forums. 16 select forum regulars qualified for this contest in which they will be pitted against other individuals in a battle of wits. They can mock one another however they chose, and then the panel of registered judges will vote on who they think performed best. After all the rounds have been completed, whoever is still left standing will be the proud owner of this schnazzy new I-Mockery trophy with the shiny ass: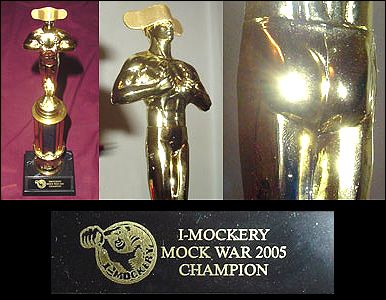 Pretty nifty trophy eh? Big kudos to Chojin for coming up with it! There's already been some real funny moments in the mock wars and things are bound to get even more amusing as each round goes by and the competition gets tougher. So definitely keep your eyes peeled on how this year's mock wars are coming along.
The 2005 Mock Wars:
http://www.i-mockery.net/viewforum.php?f=30
8 comments
Leave a Reply
Previous post: Zombies and salmon flavored soda
Next post: New stuff in National Lampoon