A culinary victory
I've never considered myself much of a cook. The reason for this is because I'm one of the pickiest eaters you'll ever encounter. That's no exaggeration, it's just a simple fact. Hell, even most vegans would say I'm too picky for my own good. So when it comes to eating, I tend to like very plain stuff (plain spaghetti with cheese, plain chicken, plain toast, plain plain plain) and therefore never had any need to learn how to cook a real fancy meal for myself.
Well, one of my favorite snacks has always been Rice Krispy Treats. They're a very simple, plain treat, but still tasty as hell. Problem is, I always get tired of spending 3-4 bux on a box of 'em when i know they cost probably 1/100th of that price to make. So today I finally decided I would take on the daunting task of actually making Rice Krispy Treats. Granted, they're about as hard to make as a can of Chef Boyardee beefaroni, but to me it still wasn't guaranteed that they'd turn out right. The fact that I had to melt butter in a pot had me envisioning a small grease fire in the very near future.
I'm happy to report, however, that my attempt to make Rice Krispy Treats was a huge success. Behold!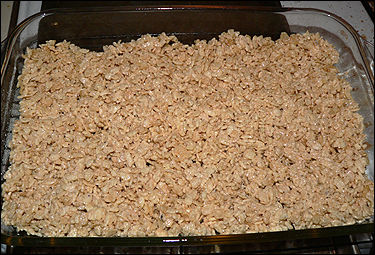 Tell me that isn't a thing of beauty. They taste just as good as they look too. Here's the recipe in case any of you wanna try making 'em.
Well anyway, that's my big triumph of the week so far. Hey, gimme a break... I was sick in bed all last week. Making these treats was an action-packed adventure in comparison! Ok so now it's your turn: what culinary conundrums have you guys overcome?
30 comments
Leave a Reply
Previous post: Back from the dead… sort of.
Next post: Newgrounds acquires I-Mockery!