Hate Thy Neighbor?
So the big move is the day after tomorrow and I'm just about done packing. But even more exciting, in a "holy shit, this is really happening!" kind of way is that our two moving containers just arrived!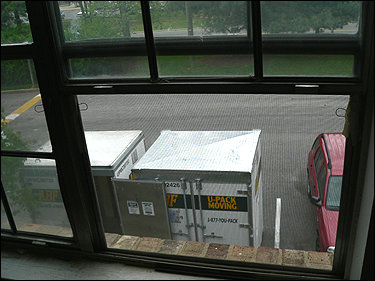 I'm sure the neighbors LOVE me right now since I'm taking up an extra two parking spaces (in our already limited spaces parking lot) with these big-assed containers. I guess it's like one final farewell to the people whom I've lived next to for almost 4 years, yet barely even spoken a word to. But hey, considering I've had to endure their karaoke parties and "kids slowwwwwwwly learning to play the violin" I'd say we're even. Ok, true, they had to endure my thrashin' guitar playing from time to time, so maybe we're not even. Maybe I came out just a little bit on top... and you know something? That's just fine by me.
More updates on the big move to California to come! If you're just now learning about the move, you can read the previous post here to learn a little more about what the hell is going on around here.
13 comments
Leave a Reply
Previous post: I-Mockery moving to the West Siiiiiiiiiiide!
Next post: I-Mockery's Moving to California Road Trip!