Shouldn't you be blowing stuff up?
Why are you here on I-Mockery? Today is the day you can be outside blowing things up and it's perfectly legal! Set those fireworks and firecrackers on fire and let 'em burn your neighborhood down all in the name of "America". I'm pretty sure it's even legal to run around in the streets today with a bottle of tequila while shooting your pistolas in the air. I think it's also legal to murder someone with a pickaxe today, just as long as you sing the "star-spangled banner" while doing it. In fact, if I'm not mistaken, today you guys can even bring cocaine into the country as long as you explain to the border patrol that you thought, "the red, white and blue needed a little bit more 'white' so I thought I'd help out!"
Again, this deal is null and void come July 5th, so get crackin! VIVA LA CHAOS!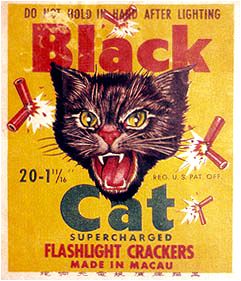 The Underappreciated Artwork of Firecracker Labels
17 comments
Leave a Reply
Previous post: Don't fear the reaper, fear the pickle?
Next post: So who's going to the San Diego Comic-Con?