Heath Ledger as the next "Joker" ?
As you may or may not have heard by now, Heath Ledger has been confirmed by Warner Bros. as "The Joker" in the next Batman movie. When I first heard rumors about Heath being considered for the role, I simply thought to myself, "Yeah right, there's no way they'd go with that guy for the zenith of comic bad guys!" And yet here many of us are, confounded with how he got the role, let alone was even considered for it. I mean look at the guy, he's not the kind of person you look at and go, "You know, he looks just like The Joker!"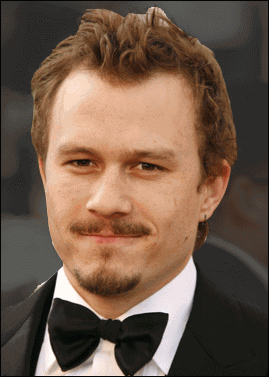 All I know is that the fx/prosthetics department has their work cut out for 'em with Heath if they wanna make him look the part.
Ok, but looks aside, what do you think of his acting? Yeah, there's a lot of people making jokes about him being a gay cowboy joker har har har... but his acting was quite good in Brokeback Mountain. Still, I can't look past the fact that this is the same guy from "A Knight's Tale" or the TV show "ROAR". Plus, anytime I hear a mention of his name, I think of the commercials for that damned Cassanova movie where he remarks, "she was hardly a novice," in that oddly muffled voice which made me want to tear out his throat and remove whatever phlegm was causing him to speak like that. All in all, he just hasn't done enough as an actor to convince me that he's the perfect match for the role of The Joker. If Ledger doesn't do justice to the character, I'm sure Cesar Romero will jump out of his grave and make Heath swallow his own goatee.
But hey, Batman Begins was, in my opinion, pretty much the greatest superhero movie ever. Perfect casting, amazing direction and simply the best telling of the Batman story to date. Plus, the batsuit didn't have nipples... thus restoring integrity to the franchise. So it's with that in mind that I'm not going to jump to conclusions that the next Batman movie will bite just because Heath is playing The Joker. I believe quite the contrary.
I must admit, however, that I'm not nearly as excited about the movie now as I would be had they chose Crispin Hellion Glover for the role of The Joker like people were originally rumoring.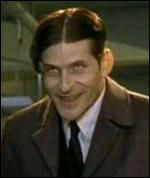 I mean the guy already looks the part without any make-up and he clearly can play "crazy" better than pretty much anyone. But even if they're not going to use Crispin Glover for the role, there's still a lot of people who could pull it off nicely. Hell, I'd honestly like to see Danny Glover give it a shot!
So what do you think? Do you believe enough in the filmmakers like I do that the next Batman movie is gonna be great, or do you think Heath "He Will Rock You!" Ledger will ruin the experience? Who else could you see playing the role of The Joker?
40 comments
Leave a Reply
Previous post: A visit to Venice Beach!
Next post: Burbank, here we come!