Zombabies and a Crawling Brain!
Sorry about the lack of updates to the blog so far this week, I've been so busy working on a variety of articles that I haven't even had a chance to make a new post here. The good news is that one of the articles I've been writing is probably one of the longest Halloween movie reviews I've done in quite a while. Can you guess what movie it is? Well, you won't have to wait much longer as I expect to be finished with it by early next week. Oh the anticipation!
So today I would like to talk about two random Halloween novelty that I feel deserve some attention: Zombabies and the Crawling Brain. First up, Zombabies...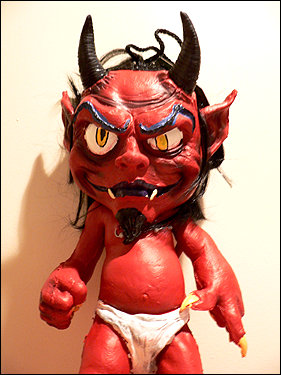 Meet Scratch. He's one of the characters in the new Zombaby collection over at Fright Catalog that are just dying for you to adopt them. I like to think of them as Cabbage Patch Kids for horror fans. While Shivers is probably my favorite character in the collection (he's a skeleton who's wearing a bony jumpsuit, how can you top that?), Scratch isn't too shabby either. First off, check out his eyes. His left eye is just pure yellow with no iris. Granted, I think that's just because of a weak paint job on that part, but it gives his character a more crazed look if you ask me. Furthermore he died his eyebrows blue. How many people do you know that just dye their eyebrows blue? I'd wager not too many. But that's not the best part...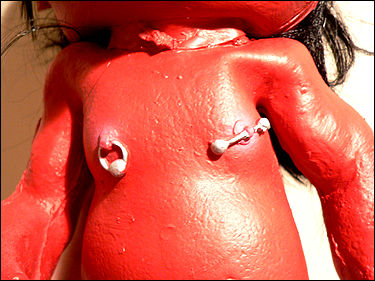 He may be an infant, but that didn't stop him from getting his nipples pierced. Excellent. I bet if you could take off his diaper, you'd find something else pierced as well. This baby... er... zombaby is clearly ready to rock, especially with that giant wobbly head of his. And with that in mind, I filmed a little video of him engaging in some zombietastic headbanging. Click here to watch it!
Next up is Crawling Brain...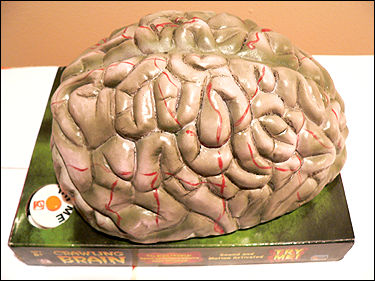 Crawling Brain is easily one of the greatest Halloween novelties this planet has ever seen. It's so simple, yet so completely random and awesome. It reminds me of the animatronic genius of Audrey II from Little Shop of Horrors. You see... it doesn't just crawl...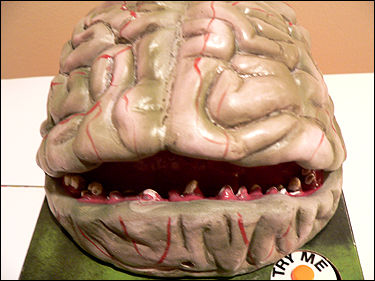 It HUNGERS! That's right, it rolls around on the floor and then the frontal lobe opens up to reveal a mouth filled with sharp teeth as it growls at you. And here's the kicker; before it does all this? It hums a happy little tune. I wouldn't have believed it if I hadn't seen it with my own eyes and neither will you. Here's a quick video I took of the crawling brain in action: Click here to watch it!
So whaddaya think about these two spooky novelties? Perhaps some day in the future I'll have Zombaby, Crawling Brain and other Halloween novelties go on some kind of epic adventure together. Only time will tell I suppose.
Well anyway, tonight I'm headed off to what's supposedly one of the largest, most amusing Halloween attractions in the country - Knott's Scary Farm! You can expect a full, detailed report on it in the next week! And this now leads us to our random survey of the day...
Random survey: What Halloween attractions are you going to check out this year? Are there any spookhouses, graveyard ghost hunts or things like that around where you live? If so, share the details with us! (and pics if you've got 'em)
26 comments
Leave a Reply
Previous post: Just call me Betty Crocker…
Next post: The Horrors of Pinball!