This ain't your daddy's I-Mockery no more.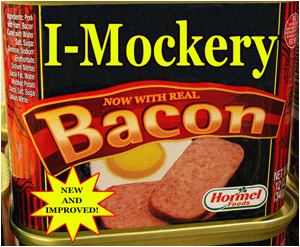 Hello gentle reader, and welcome to my new blog. (Can I call you gentle? No? How about silky? Does that work? In the event that you're not silky or gentle, substitute "rough and tumble".)
It's hard to believe, but I've been writing for I-Mockery for just over seven years now. My first two submissions were Visionary Darkness articles posted on the same day, one about the year 2000 presidential election and one about the new Transformers toys. Looking back on them (please don't), I find them kind of embarrassing now. Yes, like all women before me, I've come a long way, baby. And now I realize that last sentence makes me sound like a woman. I could totally hit the backspace button and you would never know I typed it that way, but for some reason I'm still typing forwards and words are coming out on the screen. Well, I can assure you, I'm not. A woman, I mean. I'm not even silky, which is more than I can say for you, I'm afraid.
The fact that I find some of my old stuff embarrassing is proof of two things:
1) I've grown and changed a lot as a writer during that time (or I at least think I have). More importantly, I-Mockery as a whole has grown and changed a lot in that time, and this redesign is physical evidence of that.
2) If Roger hasn't fired me by now, he's probably not going to. So I've got tenure, baby! That's right, you're stuck with me. So strap yourself in and enjoy, and don't pay any mind to the sudden vibration in your chair - I've merely inserted a quarter and hit the "magic fingers" button. (What, there is no magic fingers button on your chair? Then what in the hell did I just stick a quarter into? Let us... let us never speak of this again.)
These new blogs are all part of a 12-step plan to encourage more active participation from our readership, continue to increase the number of regular visitors, and god willing, sober up Max Burbank. It's an ambitious plan, I know, especially that last part, but you can help out by getting involved in the discussions. Hell, you don't even have to register to respond to the blog posts, but if you don't, I'll automatically assume you're an impostor of the previous person who posted under your so-called "name".
2008 should be the best year yet for I-Mockery, so I hope you guys stick with us and enjoy the ride.
You totally looked back at those two articles I asked you not to, didn't you?
Bastards.
note: If you haven't already read the details about all the changes I-Mockery just went through with the launch of the big redesign, you can click here to view them.
31 comments
Leave a Reply
Previous post: A New Year, A New I-Mockery!
Next post: In Which I Introduce Myself