In Which I Consider The Writer's Strike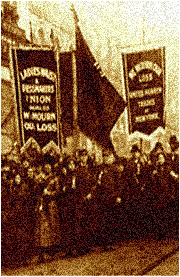 As the writer's strike enters its third month, I stand in solidarity with my brothers and sisters on the picket lines, whom ironically I am making more money than for the first time in my life. Internet writers are like the redheaded bastard stepchildren of magazine writers who dream of someday suckling from the lavish teat of television and film writers. I'm not sure exactly what that means, but I did get to write the words 'lavish teat' and publish them, something certain people I went to college with who now write for late night TV shows and think they are better than me can only dream of.
Until the strike ends. At which point the status quo will return. In the meantime, if work keeps up I will have made about $475.00 dollars that they did not.
Still I stand with them, as I will always stand for workers and against bosses. True funny story: My maternal great grandfather was exiled to Siberia for being a trade unionist, where he eventually died of old age, malnutrition and the cold. Okay, maybe not that funny, but if I'd let on it was a soul crushingly tragic story you might not have read it. The point is, your boss would send you to die in the Arctic Circle in a heartbeat if he thought he could get away with it. This is why, though I am not a member of the Writer's union, though I am merely a non-union freelance internet writer, I would never cross a picket line unless I was offered serious cash to scab. Or access to nutritious craft services food tables. Or praise.
So STRIKE ON, fellow writers who when working get paid way more than me! I'm right beneath you!
As for you, the audience, very soon there will not be a damn thing on TV you shouldn't be ashamed to watch. Now's the time for you to cozy up to your old pal I-Mockery.com, use our handy new search feature and peruse every damn word me and my comrades have ever written. And if any of your so called 'friends' or alleged 'family' are mindlessly watching reruns or mainlining lie detector humiliation based reality shows, tell 'em "HEY! It's all brand new comedy over at I-Mockery, and it's guilt free, 'cause none of them dudes ever made it far enough to even be IN a union, let alone go on strike."
26 comments
Leave a Reply
Previous post: Golden Globes canceled!? Oh noes!!!
Next post: Damned New Years Resolutionists.