Orbitz, The Lava Lamp Of The Beverage Industry, Still Exists!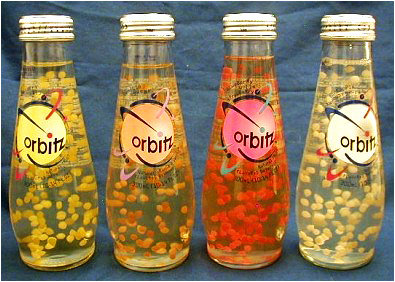 You should all know by now that I'm a huge sucker for novelty food and beverage items, so it should come as no surprise when I shout to the heavens about how ORBITZ LIVES AGAIN!!! Now before I get ahead of myself, let me explain a little bit about this amazing fruity beverage from yesteryear. Orbitz was a non-carbonated drink that was released by the Clearly Canadian company back in 1996 and featured colorful edible balls which lay suspended in the liquid. The balls were able to "defy gravity" like this because they were the same density as the liquid and had some help from the gellan gum ingredient. While the Orbitz drink itself wasn't as bad as some people made it out to be, it didn't last long in the marketplace and was sadly discontinued. That hasn't stopped it from garnering a cult following over the years however, and you can still find old bottles of it for sale on eBay (though I wouldn't recommend drinking them at this point - if you're gonna get 'em, just put 'em on display for your friends and family to gaze upon with awe).
The good news is, for those of you who want to be able to purchase Orbitz for both visual amusement and consumption, the drink is back... in a sense. I recently paid a visit to one of my favorite places in L.A., Mitsuwa Marketplace, which has a wide assortment of food imported directly from Japan. I was walking down the beverage aisle when I spotted this tiny pill-shaped bottle out of the corner of my eye: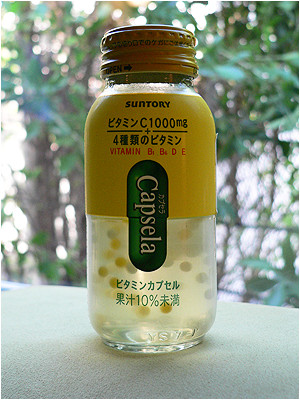 Holy shit! It's Orbitz! Yes indeed, the drink has apparently been living incognito during recent years under the name "Capsela" by Suntory. Personally, I like the new name a lot, primarily because it reminds me about how I actually owned several Capsela sets as a kid. For those of you who don't remember Capsela, it was basically like an Erector set only it was far less time consuming to assemble and it had more bouyant parts for exciting bathtub sea battles. Good times, good times.
So yeah, it's nice to see one of my favorite novelty beverages back in action, even if it is under a different name (perhaps they changed it because "Orbitz" is now also the name of a well known travel agency). One can only hope that Orbitz / Capsela will somehow find its way into mainstream culture outisde of Japan. Until then, at least we can sleep well at night because... we know it's still out there.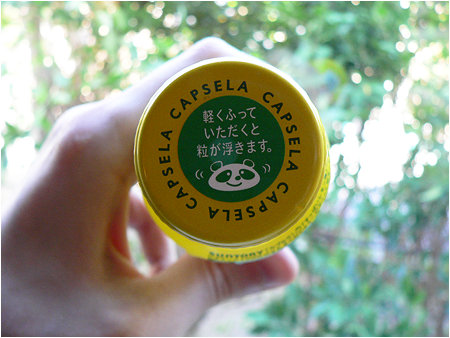 And for the record, I think they've improved the drink. After all, the old Orbitz drink didn't have a panda on the bottle cap like the new Capsela brand does. You simply can't go wrong with a drink that combines the magic of floatin orbs with pandas.
So did any of you guys ever get to try Orbitz when it was still sold in stores? If so, what'd you think of it? Furthermore, are there any other beverages that are no longer being produced that you miss a lot?
114 comments
Leave a Reply
Previous post: Hey, Comic Nerds.
Next post: In Which I Offer Up My Obsession With Zac Efron