The Joker is Dead.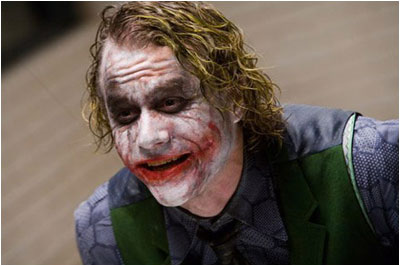 I'm sure most of you have heard by now about how Heath Ledger died this week. I hadn't seen very many of his movies at all, but I was really looking forward to his performance as the Joker in the upcoming The Dark Knight. The trailers look promising, and as a huge Batman fan I'm curious to see how this take on the character will turn out. It could be a tremendous pile of poo, but I can't wait to find out.
And of course, I can and still will do that. But this puts a major monkeywrench in that film franchise, as rumor has it the Joker is supposed to be in the third movie as well, and in it he's supposed to do something kind of important (I won't say what for those of you who care about spoilers but I'm sure many of you know what I'm talking about). So now the question is, will they write out the Joker's role in that third film or will they have someone else play the part? I can't see how either one of those wouldn't suck, at least from a standpoint of consistency. And say they got someone awesome like Crispin Glover to play the Joker--he doesn't really look like Heath Ledger so that would be end up being retarded.
I remember when The Crow came out and the death of Brandon Lee pretty much cast a huge shadow over that movie that it could never get out from under (not that it should have--and hey, isn't it kind of weird that the last film either of these guys did was a comic book movie where they wear eerily similar clown makeup?). What should've been a fun and awesome comic book movie this summer will now be kind of depressing and will always bear the mark of being Heath Ledger's last completed movie (unless he's further along in the upcoming Terry Gilliam film than I think).
At least (odds are) he went out on a high note as far as last films go. Just look at poor Raul Julia.
43 comments
Leave a Reply
Previous post: San Francisco-A-Go-Go!
Next post: In Which my 'Temperament' is 'Analyzed'