San Francisco-A-Go-Go!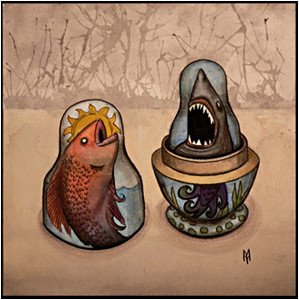 So we're headed up to San Francisco this week because Re is in a group art show up there sponsored by Juxtapoz and we both wanted to attend it and get out of town for a few days. You know me, I'll take any opportunity to travel. Her sister is coming out for the show too, so we'll have some extra company for the long drive up which is always spiffy in my book. For those of you who live in San Fran, her show is going to be this Friday, January 25th at the 111 Minna Gallery from 9pm - 10:30pm, and then there will be an after party from 11pm - 2am. If you live within driving distance, be sure to stop by to say hey and check out all o' Re's artwork along with the other artists that will be on display!
Did I mention they're gonna have not one but two breakdancing crews performing? Well now I just did... all the more reason for you to come to the show. Here's the flyer.
Any time she has a bunch of artwork in a show, it's up to yours truly to frame all of her work. See, I used to work in a frame shop and you'd be amazed at how much money it saves you if you frame your own stuff as opposed to having one of those places do it for you. That doesn't stop it from being a royal pain in the ass, of course, and I can't wait to holster my weapon of choice (a point driver gun) so I can just get on the road and enjoy the nice drive later this week. Maybe then I can stop having constant nightmares about acid-free foam core, double-sided tape, and X-Acto blades.
As with any trip I take, I'm always open to hear suggestions for places I should stop by to check out... so if there's something you think I should definitely see during my short stay up there, let's hear it! And yes, we already visited Union Square, Haight Street and took the Alcatraz tour last year so you can mark those off your list.
p.s.: Everything sounds more exciting when you tack on "A-Go-Go" to the end of it. I-Mockery-A-Go-Go!
20 comments
Leave a Reply
Previous post: Sexy Email Time.
Next post: The Joker is Dead.