Quesada On Colbert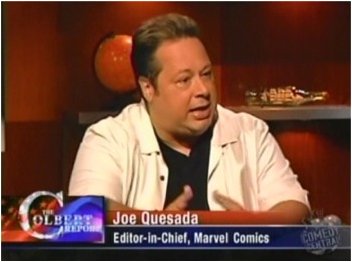 I hardly ever feel compelled to write about comics, but when I do, let me tell you, I enjoy it. I don't read that many myself, but occasionally, I'll find something remarkable that even a comic neophyte like me can latch onto. That something came a few nights ago on The Colbert Report.
As fans of the show may know, Steve Rogers, aka Captain America (may he rest in peace) bequeathed his symbolic shield to Stephen after he was killed in an ill-conceived storyline by Marvel Comics. Well Marvel Editor in Chief Joe Quesada has good news, kind of: Captain America is coming back! Well, let me be more specific: the superhero Captain America is coming back, but the guy who portrayed him is still dead. Instead, the role of Cap will be played by his old sidekick-turn-villain, Bucky "Winter Soldier" Barnes. I guess it's better than having the Punisher as the new Captain America.
Anyway, Quesada announces this on the Colbert Report, and people are fairly excited. Then, the conversation eventually segues into Quesada saying that Stephen is actually still on the presidential ballot in the Marvel Comics universe (at least in Earth 616, one assumes). The question arises: who would Stephen have as a running mate? Quesada had a few ideas, and printed up three bumper stickers to see what Stephen and his audience thought. The first ticket is Colbert/Iron Man. Sure, why not? The dickhead guy who helped get the original Captain America killed, and got Spider-Man to reveal his true identity to a world-ful of people who want him dead. I guess the thought would be that Stephen would want a Cheney-esque VP. Still, the audience cheers at the prospect, so Quesada brings out the next ticket: Colbert/Hulk. Okay, sure. If nothing else, maybe it would save the rest of us from another Hulk movie. The audience cheers even louder.
Now here's the kicker: for the last pairing, you're watching and wonder, "so which superhero would make a better VP than those two? Professor X? The Juggernaut (bitch)?" Not quite. The final ticket: Colbert/Quesada. Two people in the audience clap.
This tells me one of two things about Joe Quesada: either he has no idea how to setup a three-stage joke, or Joe Quesada thinks that he's bigger than Iron Man, the Hulk, and just about any other hero in the Marvel universe. Personally, I think the latter is far more likely. We're talking about a guy so arrogant that he felt he should be able to retcon a few decades of Spider-Man history by turning Peter Parker from a happily married man with a lot of problems on his hand into a single nerd who lives with his aunt (as seen in the most recent Protocomics). Anyway, I suppose we'll just have to wait and see if the next Marvel Civil War takes place during the Colbert/Quesada (or perhaps, the Quesada/Colbert) presidency.
39 comments
Leave a Reply
Previous post: In Which I Reveal My Failed Pornographers Past
Next post: What's With The Super Bowl Anyway?