1st Floor Elevator Users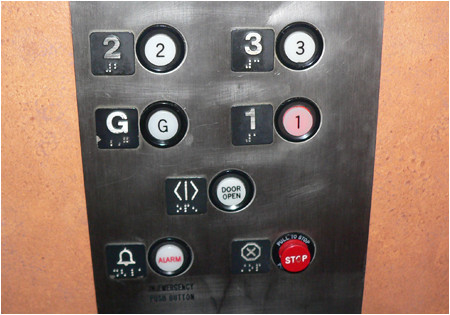 I don't know if it's simply bad luck or what, but anytime I'm in our elevator lately, I keep getting stopped by somebody on the first floor before we make it down to ground level. You know, people who actually feel the need to use an elevator to travel the equivalent of one flight of stairs. I know, I know... there are starving people in the world and my problems with riding in an elevator aren't that big a deal in the grand scheme o' things, but hear me out.
First off, I live on the top floor of a four story building and I already feel pretty lazy whenever I ride in the elevator to get to the top or bottom floors. I could easily sprint up or down the stairs and make better time than our elevator, which I swear is powered by stoned turtles in a tar pit, but I still use it regularly. Sure, sometimes I'll have a bunch o' groceries in hand or something like that, and an elevator always makes those situations easier, but generally speaking, it's not hard to take the stairs in our building and a lil' exercise never hurt anybody.
This, of course, brings me to the people living on the first floor. Why the HELL must they constantly take the elevator!? I could literally jump over the railing and land on the bottom floor and be perfectly fine... that's how close to the ground level these people are. Yes, if there are elderly people who have trouble walking, I can obviously understand their need to use the elevator to get to and from the first floor, but most of these first floor people who keep interrupting my elevator rides are in perfectly good shape and often younger than yours truly.
If you live on the first floor of a building and you're able to walk, don't take the elevator. You're not living in the movie Being John Malkovich, and nothing exciting is going to happen to you by riding on the elevator - unless you count my yelling at and/or pummeling you - so don't do it. And yes, I know of the whole "bypass all floors" elevator trick, but it doesn't work on this particular elevator as ours doesn't have a close door button... and it still doesn't change the fact that these ultra-lazy first floor people should just take the stairs anyway.
Do any of you frequently experience these first floor dweller annoyances too?
46 comments
Leave a Reply
Previous post: An Open Letter To The People Who Read My Open Letter To Hannah Montana
Next post: It's February 14th, A Very Special Day.