You CAN Shoot The Dog From Duck Hunt! Hallelujah!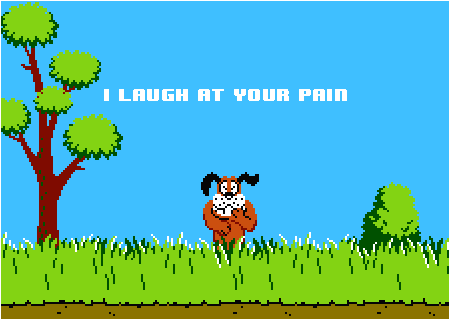 One of the earliest Flash games I ever made was "Kill The Dog From Duck Hunt" - a simple game which allowed you to get sweet revenge over that damned dog for laughing at you whenever you missed your ducky targets in the classic NES game, Duck Hunt. I figured I was in the minority when it came to people who wanted to see that 8-bit dog die a painful death, but that silly little Flash game got a huge response and inspired me to keep making more games. The reason I made that little game is because the original NES version of Duck Hunt did not allow you to shoot that dog, despite there being some urban legends suggesting you could. While it's true that you can't shoot the dog on the NES game, I recently found out that there IS a way for you to legitimately gun down that cocky canine without having to resort to my homebrew Flash game to blow off some steam. Take a look: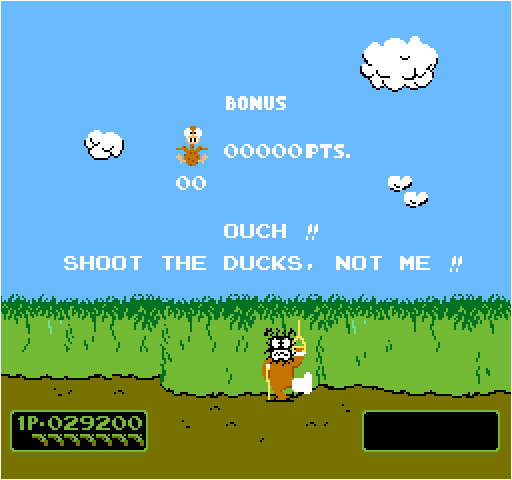 This is not a doctored pic, it's from the arcade version of Duck Hunt that was part of the Nintendo Vs. Series arcade games. What's interesting about the Vs. Series games is that they were ported from the NES home console system to the arcade, instead of the other way around. This being the case, additional graphics and functionalities were added to most of the games, as is the case with Duck Hunt. In the Vs. version of Duck Hunt, you could actually shoot the dog during the bonus round. It's a good thing too, because he even popped up during the clay pigeon games to laugh at you when you missed (he didn't do that in the original NES version). Granted, his fate isn't as bloody as my Flash version was, but you gotta admit... it's damned satisfying to see that dog using crutches and having his head blown off. On a related note, why did they have to make that little duck look so delicious? Seriously, it looks like a flying drumstick and I have a sudden craving for Popeye's chicken (screw any of you who say KFC is better).
That's not the only way you can shoot the dog though. Check this out: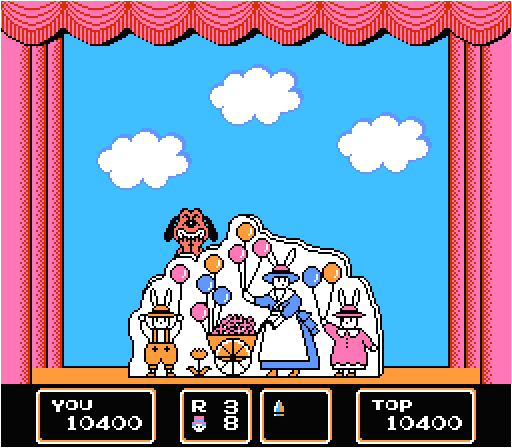 For those of you who want to be able to shoot the dog on your NES, however, there still is one other way that you can sort of do it. There's an obscure light zapper gun game for the NES called Barker Bill's Trick Shooting in which you just shoot a bunch o' balloons in a saloon (yay rhymes!). The Duck Hunt dog introduces each round of the game and he'll laugh at you if you fail to shoot enough balloons. However, in this game, he'll also pop up randomly during the rounds, giving you the perfect opportunity to blast that grin off his smug little face. He turns dark red and gets mad at you whenever you shoot him, but it's not like he's dead or anything. Yes, it may not be the biggest pay off, but it's nice to be able to do anything to him, especially since he does have the exact same laughing sound as the one that haunted us in the original NES Duck hunt. And hey, it's nice to see him angry at ME for a change, instead of it being the other way around as usual.
So there you have it, I've served up that damned dog on a silver platter for you. You now have THREE ways to shoot him. Today is indeed a good day!
44 comments
Leave a Reply
Previous post: In Which I Thank Kid Rock.
Next post: Don't Eat The Yellow Polymer Snow.