Damnit, Kool-Aid Man! Look What You Did!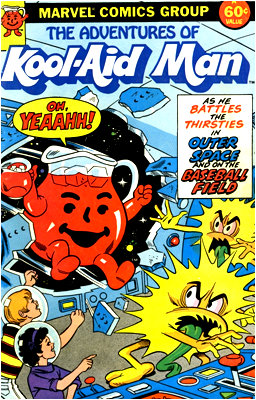 We all know the Kool-Aid Man has a reputation for busting through walls to give you a refreshing drink, but this old comic book cover shows that he doesn't just limit himself to our homes. He'll nonchalantly bust through the hull of a space shuttle in outer space too whenever he has the chance. Now, on earth, this would only mean a big repair bill, but in space we have quite a different story. His busting through the hull of a space shuttle would instantly cause everybody inside to get sucked out into the endless black abyss, floating until they died either from a lack of oxygen or (in the case of the two kids with the space helmets there) starvation. Actually, I'm pretty sure those kids would suffocate too, because while they are wearing space helmets, they don't have any astronaut suits on, just t-shirts and jeans. So, unless those are some kind of magical space helmets that allow you to wear regular clothes while floating through space, I'm pretty sure those kids would be screwed in an instant.
With this evidence of the Kool-Aid Man busting through more than just the walls of your average household on earth, it makes you wonder what other things he's busted through without our knowing? Maybe he was responsible for the Challenger shuttle disaster? Furthermore, did the Exxon Valdez spill really hit a reef, or was it caused by the Kool-Aid man busting in to share a refreshing drink with the crew? Was Timothy McVeigh just a patsy for the reckless actions of Kool-Aid Man? I'm onto you, Kool-Aid Man... I'm onto you. OH YEAH!
In unrelated news, I'm working on getting the first new I-Mockery T-shirts in roughly four years printed up! Those of you who read my big "Over The Top" article know exactly what I'm talking about, and trust me when I say that these will pretty much be the greatest shirts in the history of mankind. I guess what I'm trying to say is that you should each buy 20 of 'em. That's reasonable, right? Keep an eye out for their unveiling in the coming weeks.
On a final note, I spent my entire Sunday at the beach in Santa Monica and managed not to get sunburned at all. For a pale bastard like yours truly, this is always a major accomplishment. No, strike that, it's a VICTORY against NATURE.
p.s.: Big thanks to Andrew from Old Man Musings for letting me use the nice scan of the Kool-Aid Man comic book cover. Be sure to check out his site sometime.
47 comments
Leave a Reply
Previous post: In Which We Discuss Our Relationship.
Next post: Mallow Fries: Candy Or Abomination?