The Jumping Boo!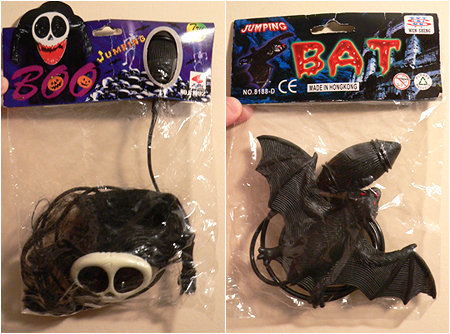 Ah cheap Halloween novelties. Sure, they're a dime a dozen around this time o' year, but every now 'n then you'll find something that was worth every penny of that whopping dollar you spent. I picked up this "Jumping Boo" and "Jumping Bat" set from the local Halloween Adventure seasonal shop and boy am I ever glad I did. At first glance, you'd think they're your basic toys that leap into the air when you give the hand-pump a squeeze. Well, yeah, they are... no doubt about that. The bat in particular is nothing we haven't seen before, but what about that other creature? Just what in the hell is a "Boo" anyway?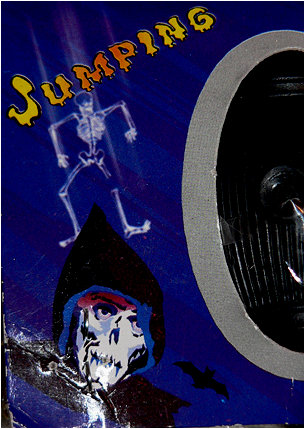 Before we get to the mysterious product inside, I have to draw your attention to the image of Death that appears on the back of the package. Is that not one of the saddest depictions of the Grim Reaper you've ever seen? I mean look at him... if he wasn't already dead, I'd say he's completely lost the will to live. I suppose having a hyperactive skeleton jumping on your head doesn't help matters much. Maybe he's just jaded with his line of work. I imagine it's pretty hard to not get a bit downtrodden here 'n there when your job is killing people 24/7. Cheer up Death, we still love ya... and hey, at least you look much better than this thing: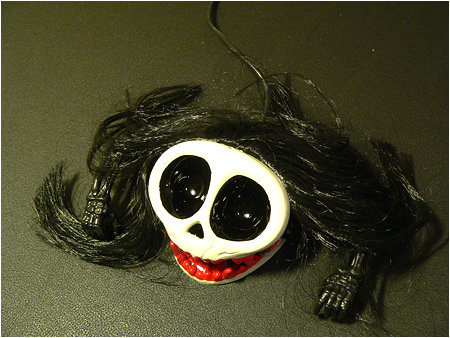 AIEEEEEEEEEEEEE!!!! What the hell is that!?!? It looks like Michael Jackson's unholy fetus! Well, forget about sleeping peacefully tonight, because there's no way you're gonna be able to erase that nightmare of an image from your mind. And since you're gonna be up for a while anyway, I might as well show you the Jumping Boo (brrrr) and the Jumping Bat in action...
They're almost creepier when turned upside-down, aren't they?
On an unrelated note, some extremely generous I-Mockery reader recently bought me both the Blind Dead Collection DVD set and the Campy Classics Fright Pack DVD set off of my Amazon wishlist. Unfortunately, when I received them in the mail, Amazon didn't include any information about who it was other than providing me with a first name - Michael. So, if you happen to be reading this Michael, drop me an email so I can thank you properly. Definitely looking forward to viewing all these classic horror flicks!
22 comments
Leave a Reply
Previous post: Dr. Giggles Splattrax With I-Mockery Coming Soon! Get The DVD Pronto!
Next post: The Latest Spooky Sodas.