The Hummingbird Spy.
UPDATE #2: In addition to the video footage I got of 'em the other day, I just put up a new hummingbird feeder so they'd be more inclined to come back regularly and it worked like a charm. Hit the jump and then scroll down into the comments section to see some photos of one o' the hummingbirds pigging out. (3/14/09)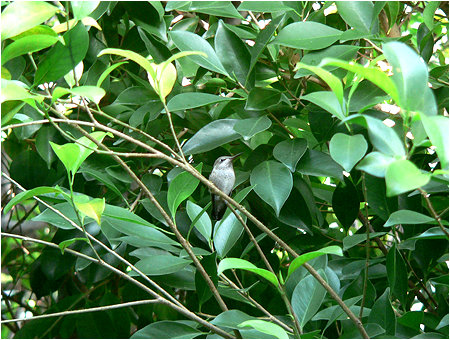 For a long time now, there's been a hummingbird who keeps flying up to my window and spying on me while I work. I'll never understand why he finds me so particularly interesting. Maybe he knows that I've had a hummingbird feeder in my closet for almost 2 years now and have yet to set it up so he can drink its sweet Kool-Aid-like nectar. It's one of those projects that requires me to remove the screen from my window, drill a hole in the side of the building, dangle from the ledge while trying to hang the feeder up and hoping to hell that I don't fall three stories down to my death where people will find me with a broken neck and covered in red hummingbird syrup. Not exactly how I'd like to leave this world, hence the procrastination.
Now, I've never been able to photograph the hummingbird in the past, because it would fly away before I had a chance to turn my camera on. That all changed today, when the lil' fella got even more ballsy (or perhaps, just lazy) and decided to sit on a small tree branch outside my window to do his spying from there...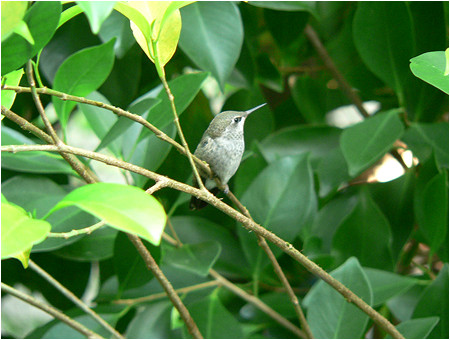 I was really surprised to see him sitting there for so long and it was great to finally snap some nice photos of him, but it would appear as though this was all just a big prank of his. After I snapped my final picture, he looked right into my eyes, took a dump and then flew away.
Nature really is awesome, but I can't help but think that it's constantly laughing at us humans.
UPDATE: The hummingbird came back again today and not only did I capture it on video this time, but it brought a friend along for the show!
37 comments
Leave a Reply
Previous post: In Which I Cast Pearls.
Next post: Happy St. Patrick's Day, Drunkards! Plus, Shamrock Shakes & Guinness Cupcakes!