The Fictional Transforming Skyscraper Toy From "Big".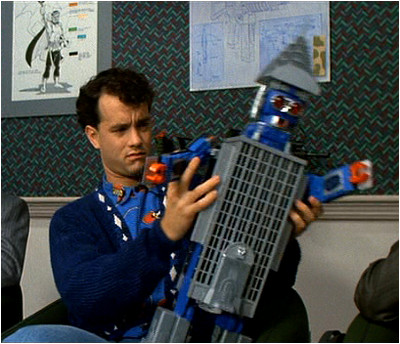 So I caught a little bit of the movie "Big", starring Tom Hanks as Josh, the other night and I hadn't seen it in years. It was always a fun movie as a kid and still holds up pretty well even today, but there was one scene I had completely forgotten about. After he gets a job at the toy company, there's a scene where Josh is in a meeting and they're discussing a new Transformers toy. It's a giant skyscraper that turns into a robot. After playing with it for a little while, Josh announces, "I don't get it. It turns from a building into a robot, right? Well, what's fun about that? What's so fun about playing with a building? That's not any fun!" and he then goes on to brainstorm ideas for a new line of Transformers based on insects. Yes, we all knew this was a nod to the Insecticons, but that's not what I'm here to talk about today.
I'm here to talk about the fact that I don't think a skyscraper which transforms into a robot (and vice versa) was really such a bad idea at all. Sure, it's not as cool as all of the Constructicons joining together to form Devastator, but it's still a nice big toy and it looks like it has red flashy eyes and a surprised look on its face. What kid wouldn't love a giant skyscraper with red flashy eyes and a surprised look on its face? I'll tell you what kid wouldn't want that toy. The kind of kid that should've been aborted.
Hasbro, if you're reading this, you missed a golden opportunity with this toy back in the 80s, but it's never too late to correct that mistake. If you make a giant skyscraper Transformer reminiscent of the one seen in "Big", I will most certainly buy one... and I'm sure many, many other people will do the same. To sweeten the deal, myself and the other I-Mockery readers will even lend you a hand with it - we'll come up with some names for the skyscraper-bot! Do we have a deal, Hasbro? Good.
To all the readers of I-Mockery: Post your ideas in this thread for what you think the skyscraper Transformer toy should be named! Corpotron? Skyscrape? Let's see what awesome names you guys can come up with.
It's high time this fictional movie toy becomes a reality, so let's get the ball rollin'. Who knows... this could be the impetus for an entire city playset that transforms into a robot. Crazier shit has happened.
54 comments
Leave a Reply
Previous post: Maddox Appearing LIVE On Doc Mock's Movie Mausoleum Friday, June 26th!
Next post: RainbowPuke Is Back!