Disney To Ruin Marvel Comics.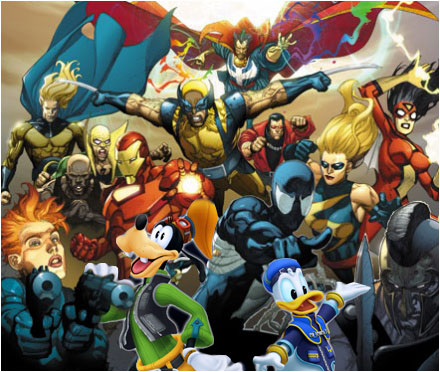 As an avid comic fan, I was terrified when I read the news this morning about Marvel Comics being bought by Disney. Horrific images immediately popped into my head: Mickey Mouse and Goofy joining the Avengers, Donald Duck teaming up with Wolverine to take down the Dr. Doom/Cruella de Vil alliance, and Scrooge McDuck becoming the new head of S.H.I.E.L.D.
I'm no fan of Disney, mostly because I'm older than five, so I'm a bit worried about how they might fuck up some of my favorite comic book properties. If they've any sense at all, they'll leave Marvel alone to do what they've been doing creatively, much the way Time Warner has handled DC Comics after acquiring it. But given that Disney is a huge mega-corporation, I know full well that they can't possibily have any sense at all.
So now I wonder what horrors are coming our way down the road. Will they impose bizarre editorial edicts that make Quesada's anti-smoking rule seem reasonable by comparison? Will they eventually dissolve the Marvel brand entirely, so I have to stomach buying comics with that shitty, childish Disney logo plastered on them? Will they mandate crossovers with existing Disney properties? The last thing I want to see is some horrible "Kingdom Hearts" kind of situation where a bunch of soft, fat, giggly Disney characters are rubbing elbows with the likes of Wolverine and Magneto. It sends chills down my spine, I tells ya.
A friend of mine pointed out that the best case scenario means they might introduce some cool new Marvel-themed rides and exhibits in their theme parks. Worst case is they'll remove any and all adult appeal these comics and characters have by trying to "kiddiefy" everything. What are you guys' hopes and fears for this partnership?
ALSO: I am planning a Longbox column about the most "Halloweeny" comic characters. Obviously Scarecrow, Green Goblin and Hobgoblin quickly come to mind. If you have any suggestions you'd like to see appear in the article (I make no guarantees), feel free to post them here!
77 comments
Leave a Reply
Previous post: I-Mockery On Facebook. In Your FACE.
Next post: Sharpen The Knives! I-Mockery's 2009 Halloween Season Has Begun!