Two Halloween Contests Ending Soon! Plus, An Interview At SC3!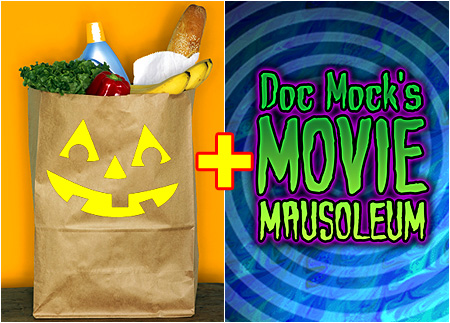 Since we all need things to keep our mind preoccupied, I just wanted to remind you guys quickly that we have two Halloween contests that are ending really soon, so you had better get to work!
First up, we have the "Turn Your Own Damn Groceries Into Halloween Jack-O-Lanterns Contest" in which the title pretty much says it all. Just head out to your local grocery store and find some kind of food product to carve up for Halloween. You can carve fruits, vegetables, hot dogs... whatever you want really. If you need some inspiration, just take a look at the excellent entries that some people have already submitted. You can also check out the "Let's Make Lime-O-Lanterns" article which was the inspiration for this contest. There are some great prizes for this contest including the full "A Nightmare on Elm Street" box set and all kinds of I-Mockery merchandise, so be sure to get your entries posted in the official contest thread soon. This contest ends on Wednesday, October 7th.
In the other contest, for those of you who missed the last episode of Doc Mock's Movie Mausoleum, we're having people draw one or all of the characters from the show (Doc Mock, Miss Diagnosis, Licky, Smiley) in a circus / carnival scene of some sort. We'll be showcasing the entries on the next episode of Doc Mock's Movie Mausoleum which airs Friday, October 9th, so you'll need to have your entries submitted before then. You don't need to be an artist or anything, as many of the entries will likely be done in MS Paint or crayon... just have fun with it. The winning entry will receive the Killjoy toy which we featured on the last episode! Post your entries in the official contest thread, which already has some crazy entries.
Looking forward to seeing some more crazy entries in both contests from you guys!
In other news, I was at SC3 the other weekend, which is basically a huge gathering of classic gamers in southern California that takes place twice a year in some guy's back yard. They truck in a boatload of vintage arcade cabinets and console systems and it's all free for people to play into the wee hours of the night. Truly a fun time and I even won the grand prize in the raffle this year (a full ColecoVision system with some games 'n extra controllers) which was awesome even though I have no idea where to keep it since I have no space left in my place. I also donated some of our Pixel Posters to the raffle which turned out to be really popular with everybody. While I was there, I did a little interview with Crix Lee from GirlGamer and the video is now up online (starts around the 2:16 mark):
Alright, that's all for now. I have a big photo gallery from Knott's Scary Farm's 2009 Haunt that should be going up later this weekend, and tonight I'm heading out to Universal Studios to cover their Eyegore Awards ceremony and Halloween Horror Nights. You can expect to hear more about that next week.
October is definitely starting off in grand fashion, so let's hear about some of the things you guys are planning on doing this month! Going to see any haunted houses? How about any horror movie marathons? What be your plans this Halloween season?
8 comments
Leave a Reply
Previous post: The "A Nightmare On Elm Street" Remake Trailer.
Next post: Trick 'R Treat Finally Comes To DVD!