Our Big Halloween Special Airs LIVE Tonight! Thursday, 10/29 @10pm PST!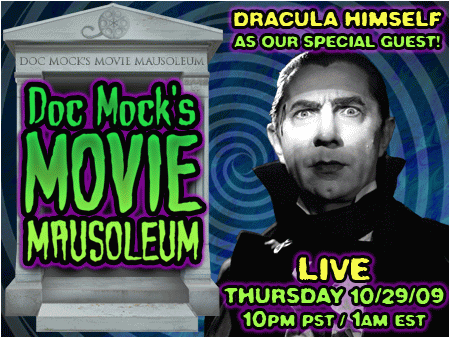 Tonight's the night for our final Halloween season special on Doc Mock's Movie Mausoleum! We normally air on Fridays, but for our final Halloween episode of the season, we're airing on Thursday (tonight) at 10pm PST / 1am EST. Be sure to tune in LIVE, because we have a great guest in store for you... the one and only COUNT DRACULA! Yes indeed, the original prince of darkness himself will be our special guest and we have all sorts of fun things planned for the evening, so don't miss it!
If you haven't entered the Halloween Art Contest, be sure to do so before the episode airs tonight! We'll be showing all the entries during the episode when we announce the winner!
As always, you can watch it LIVE and join in the chat room fun at any of the following URLs at 10pm PST / 1am EST:
http://www.thestream.tv/live.php
http://www.justin.tv/thestreamdottv
http://www.stickam.com/thestreamdottv
It's gonna be a blast tonight, so I hope to see all of you there for this big Halloween celebration!
10 comments
Leave a Reply
Previous post: The Hunt For A Halloween Costume.
Next post: 10 YEARS!