This Friday: The Return Of Doc Mock!
Update: You can watch the show and join in the live chat room fun at any of the following URLs tonight at 10pm PST / 1am EST:
http://www.thestream.tv/live.php
http://www.justin.tv/thestreamdottv
http://www.stickam.com/thestreamdottv
Hope to see all of you in the live chat rooms tonight!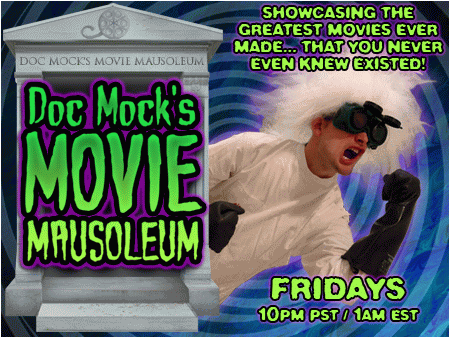 That almost sounds like a threat, doesn't it? While it's only been a month since we went on break, it honestly feels like forever to me and I've been itching to broadcast some new episodes. Fortunately, our withdrawals from the show are about to end, because this Friday night at 10pm PST / 1am EST, Doc Mock's Movie Mausoleum is back with an all new LIVE episode! I really can't wait to get back into the mausoleum and dust off some crazy old movies to share with you guys.
We also have some big names in comedy coming up during this next run of live episodes, including a childhood hero of mine, so you guys definitely don't wanna miss out on all the fun we have in store for ya. Hope to see you guys in the chat rooms this Friday night!
p.s.: If you still haven't watched our big holiday special from last month, you should definitely check it out because it was one hell of a ho ho holiday hootenanny! Watch it here!
8 comments
Leave a Reply
Previous post: Hollywood Ninja Inc.
Next post: The Pee-wee Herman Show.