Bizarre Toy Find #2: Titanic-Bot!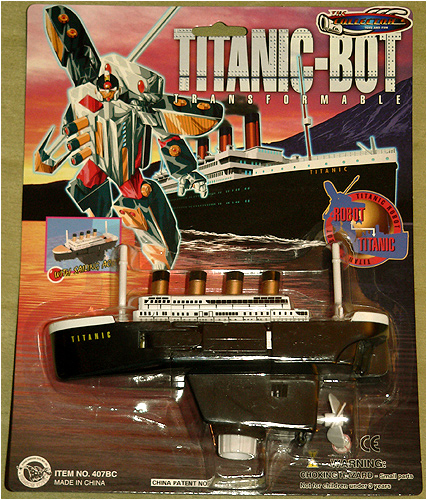 Titanic-Bot!
Believe me, I did a huge double take upon discovering this action figure down in the Los Angeles Toy District. Titanic-Bot. TITANIC-BOT!!! I honestly don't think I've ever seen a more inherently hilarious knock-off Transformers toy in my entire life. I can just picture the toy designer thinking to himself, "I want to make a robot who is destined to perish before he even has a chance to fight any other robots." Well congratulations Mr. Toy Designer, because you did exactly that. Just imagine if Titanic-Bot tried to start some shit with one of the real Transformers. No robot would fight Titanic-Bot, because there is no honor in defeating a robot whom all the other Transformers feel nothing but pity for. This is officially the only action figure ever created whose mortal enemy is an iceberg.
You know, I'd be far more inclined to watch James Cameron's 1997 "Titanic" film if it featured a huge ocean vessel that unintentionally killed all the passengers aboard when it transformed into a robot. Then, as punishment for its carelessness, it was defeated by Iceberg-Bot. Transforming Titanic-bot isn't all that difficult, and it's nice they included weapons for him, but clearly they're no match for those frigid sea waters.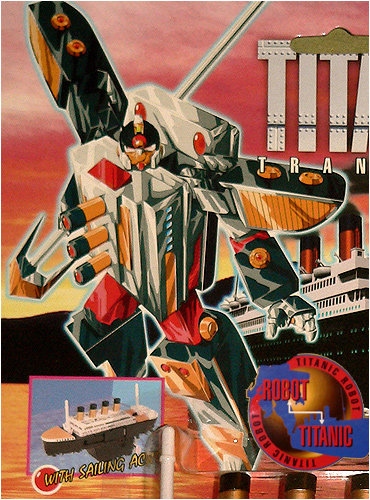 I'm still kicking myself for only picking up one of these Titanic-Bots when I was down in the toy district some months ago, especially since they were selling for only 4 bux. The last time I went down there, the figures were all gone... plus, they seem to fetch absurdly high prices online. I'm still gonna keep my eyes peeled for them though, because I'm of the opinion that one can never have too many Titanic-Bot transforming robots in his or her life. Surely, you all agree with me.
Now I'm sure you want to see him in action, so here's a video (complete with an appropriate theme song) of Titanic-Bot in action:
Titanic-Bot, you may be destined to sink, but until that tragic day arrives, you are indeed king of the world.
This concludes my second installment of Bizarre Toy Finds, so please share your thoughts on Titanic-Bot here in the blog. Once again, I welcome any of your suggestions for toys you'd like to see me cover in the future. If you've seen any crazy toys in a store recently that you think I should know about, please email me the details about it and I'll see if I can track it down or work out some way for you to send one to me to cover.
37 comments
Leave a Reply
Previous post: New Time For Doc Mock Tonight! Show Starts At 8pm PST / 11pm EST!
Next post: Glitch Of War III: Hermes Battle.