Halloween Edition Color Blanks!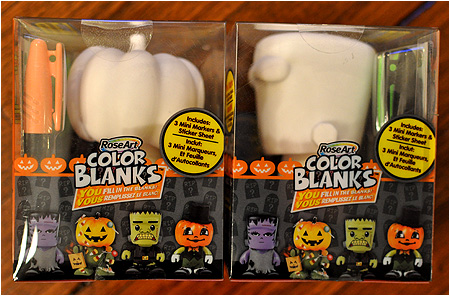 It seems as though vinyl toys have never been as popular as they are these days. More stationary pieces of art than toys, they're being sold just about everywhere you look, and a number of companies have been selling blank vinyl toys that you can customize yourself. Those of you looking for some new Halloween crafts to tackle this season will be pleased to know that Rose Art has just released two new Halloween edition versions of their Color Blanks figures. One is Frankenstein's Monster and the other is a Human Jack-O-Lantern, and they come with a few markers and various stickers to decorate their bodies with.
Naturally, I had to pick up both of them, but rather than torture your eyes with what mine would inevitably look like (hint: covered in far too many stickers), I called upon Re to lend her artistic talents to this urgent Halloween project. She got right to work and I'm pleased to unveil the results of her labor: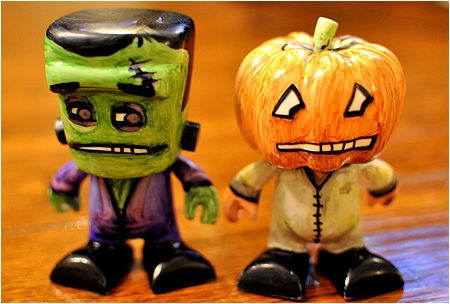 That's a hell of a lot nicer than anything I could have pulled off with the markers and stickers included with the Color Blanks. Now, you may be wondering why these two look like they're a bit embarrassed. Well, I believe a look at their posteriors will answer that question: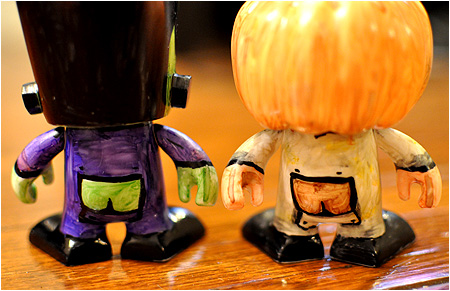 Yes, my friends... you come to I-Mockery for spooky Halloween stuff, and we continue to deliver year after year. This year, you've been given the gift of Monster Poop Chutes! Big thanks to Re for taking the time to come up with a great design for these figures. Be sure to check out her Strange Puppets site and maybe pick up one of the new nesting doll t-shirts she has for sale in her store!
14 comments
Leave a Reply
Previous post: The Matrix Halloween Phenomenon.
Next post: The Fright Light: A Halloween Flashlight.