Fritos Mini-Monster: Gay Blade!
So back in the 60s, MPC relased a set of eight mini-monster figures including characters such as Dracula, the Wolfman, a witch, a skeleton, and more. Originally, people collected these little monster figures in grocery store vending machines, but some years later, the Frito-Lay company re-released them as a new set of mini-monsters, and a one figure was included with every bag.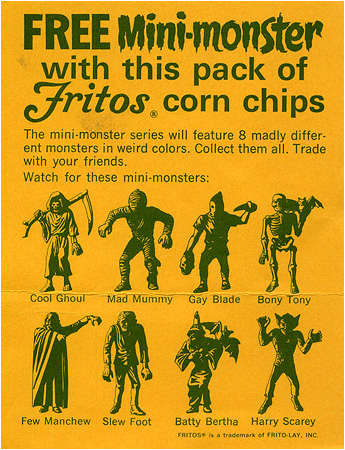 Other than being colored differently, the Fritos mini-monsters had the exact same plastic mold. The more significant change that they made was to the names of each monster. Instead of the original scarier monster names, they went with names that were a bit more family friendly. The monsters now had names such as "Batty Bertha", "Bony Tony", and "Few Manchew"... basically, the kind of names you'd expect to see on Garbage Pail Kids trading cards.
Believe it or not, one of the figures who was originally named "Evil Executioner" was actually changed to "Gay Blade" (no relation to the old Zorro flick). It's funny how a simple name change can make a character sound so completely innocent - even if he's wearing an executioner's hood, holding a knife in one hand and a severed head in the other. If you changed Charles Manson's name to "Skippy Bippy", I guarantee you'd feel inclined to let him run a child daycare center rather than keep him locked away in prison.
Naturally, I had to have this particular mini-monster with the amazing name and I tried tracking down the old orange Fritos version of him for years. Well my friends, I finally did it. I am now the happy gay owner of Gay Blade!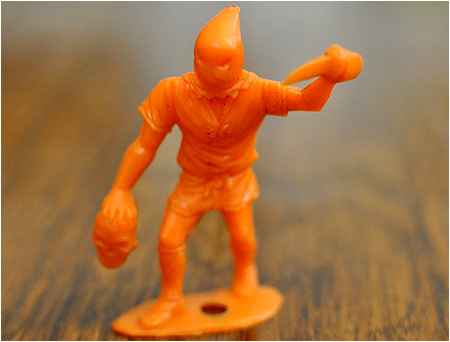 I was curious about what his blade would actually do to somebody if they were stabbed by it. I mean, being stabbed doesn't sound like a particularly happy experience, but Gay Blade sure makes me think it might be. Rather than be a guinea pig and have him stab me, I decided to leave him alone with a Brachs Mellowcreme Pumpkin to see what would happen. When I returned, I was shocked to see what Gay Blade had done. Hit the jump to see what happened: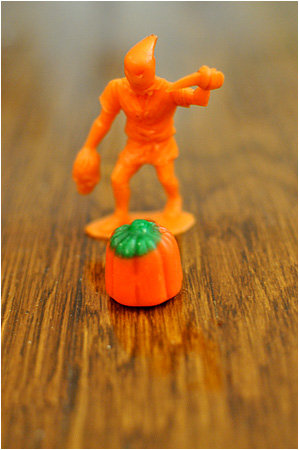 BEFORE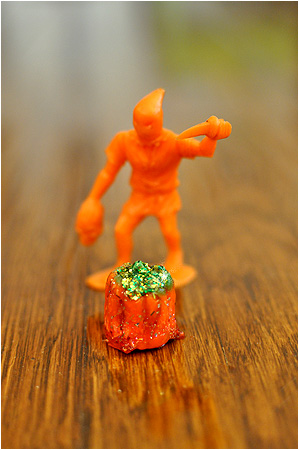 AFTER
Holy crap! Gay Blade stabbed that Mellowcreme Pumpkin and now it's all glittery! Well, now we know how the vampires in Twilight ended up that way.
19 comments
Leave a Reply
Previous post: My Take On Freddy Krueger Appearing In Mortal Kombat.
Next post: Our New 8-Bit Halloween Pixel Posters Have Finally Arrived!