Bionic Chainsaw Pogo Gorilla!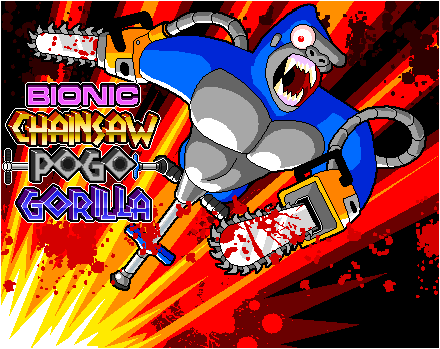 In case you missed the news on Destructoid yesterday, the next video game I'm working on has been announced. That game? Bionic Chainsaw Pogo Gorilla! This is a game character I've had sawing away at my brain for years, and thanks to the brave souls at Adult Swim who understand that such a creature needs to be unleashed upon the world, I can finally make this game a reality. I'm working with my good chums Pox (who worked with me on Abobo's Big Adventure) and Jacob (who worked with me on Santa Fu, MonsterTime, etc.) on this original new title, and it will be released by Adult Swim sometime this year. Destructoid has some exclusive screenshots from the game in their article, and here's an additional for you to check out:
Really excited about this project. It's going to have long levels, loads of crazy enemies, huge boss fights, all kinds of surprises, and as you can probably imagine... lots and lots of blood. BLOOOOOOD!!! Be sure to follow me on Twitter and check out the new Bionic Chainsaw Pogo Gorilla Facebook page to stay posted on all the latest updates about the game. More to come!
6 comments
Leave a Reply
Previous post: My Thoughts On The Evil Dead Remake.
Next post: Jason Voorhees Gets An Exclusive SDCC 2013 Friday The 13th NES Figure!