Make Suggestions For Next Pixel Poster!
With our "Four Seasons of Pixels" poster collection complete, I know a lot of you have been wondering if we would ever make another one. After all, it's not like there's a fifth season, so where do we go from here? Well, let's just say I have something new in mind and I think you're gonna absolutely love it. But before I can show any of it, there's much work to be done. Once again, I wanna give all of you a chance to help create our next poster. You've pitched in some fantastic ideas for our previous efforts, many of which ended up on the prints, so it's time for you to use your noggins once more to help us produce another insane world of pixels.
With that in mind, please post your suggestions for characters and anything else you'd love to see in our next pixel print in the comments section below - you don't even need a registered account to post 'em. What's nice this time is that your ideas don't have to be season or holiday specific; you really can suggest just about anything that comes to mind. Be sure to make as many suggestions as you can come up with; the more we receive, the more likely it is that we'll include some of 'em on this poster. Also, if you can, please break your suggestions down into two separate categories: GOOD and EVIL. It'll really help us keep things sorted out. To help get your creative juices flowing, here's a small sampling of the happy chaos that can be found on our previous pixel prints: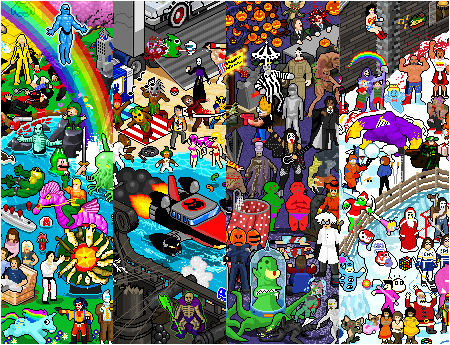 I'm really excited about this next print, and it's going to be nice working with Pox on non-seasonal one for the first time. And for those of you who haven't had a chance to pick up our spring, summer, fall, and winter themed prints, they're still available here.
Alright, start posting your suggestions here in this thread and maybe your ideas will end up on our next big pixel print!
32 comments
Leave a Reply
Previous post: Happy Halloweeeeeeeeeeeen!
Next post: My New Comikaze 2013 Videos!