The Meals Of Horror: Part 2!
Can you feel it creeping towards you? We're less than a week away from I-Mockery's annual "Two Months of Halloween" celebration, and I can't wait to dive right into all the madness! I always look forward to writing new Halloweeny pieces and talking with all of you about them, and I already have some really fun pieces in the works for this season. Remember, just like we've been doing every year for well over a decade now, the big celebration begins next Thursday, September 1st.
While you wait for it to kick off, here's an appetizer for you in the form of my newest article for Dread Central!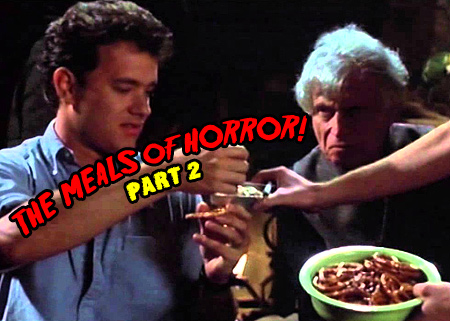 The Most Memorable Meals of Horror: Part 2 was a lot of fun to write, as I got into some more of my favorite spooky suppers from films including The 'Burbs, Theatre of Blood, and more. Thanks for reading, and be sure to post in the comments section of the article what other horror movie meals you'd like featured in future installments. I just may include it in the next batch!
4 comments
Leave a Reply
Previous post: Mr. Robot & Monster Cereals!
Next post: Put On A Monster Mask! I-Mockery's 2016 Halloween Season Has Begun!