Gymkata has arrived on DVD! The skill of gynmastics. The kill of karate!
My friends, it is time for us to rejoice, for the movie which we all joined together to vote for a release in Amazon.com's DVD Decision 2006 has finally arrived: Gymkata!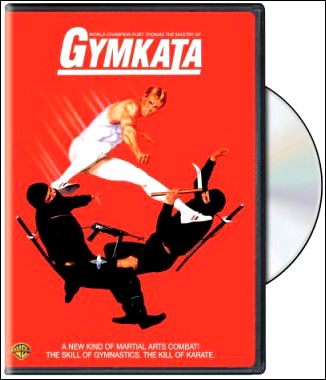 It pleases and amuses me to no end that I-Mockery's readership could sway the voting results in something like this in order to get one of the most hilariously cheesy films ever created finally released on DVD. They even kept the awesome original poster art for the cover on the DVD which features Kurt Thomas kicking two ninjas, one of whom is armed with a gun. It just doesn't get any better than that, folks. Give yourselves a hearty pat on the back, for you've done good! I hope you all enjoy watching the skill of gymnastics and the kill of karate in the near future.
The distributor also sent me a some copies of the Gymkata DVD to give away to you guys in a contest! Pretty spiffy, eh? And what better way to let you guys compete for copies of the DVD than with a Photoshop / MSPaint /art contest involving the lonely Flag Ninjas from the film?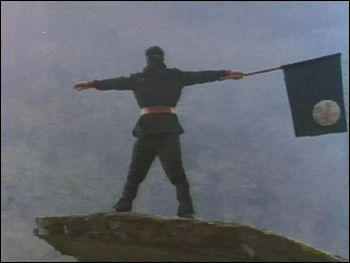 The contest is simple: All you have to do is photoshop or draw a Flag Ninja into another scenario where his flag holding skills would come in handy. For example, you could make the guy who holds the checkered flag at the end of a car race look like a ninja. I'm sure you can come up with better ideas than that though. You can use screenshots of the Flag Ninja (here and here) from the actual movie , draw your own custom flag ninja, or you can even use this pixelated video-game styled Flag Ninja sprite that we use as an emoticon on the I-Mockery forums:

The choice is yours, but don't feel like you have to be an art major to win this thing. We'll be judging the contest primarily on humor. To enter the contest, simply email your Flag Ninja image(s) to gymkata@i-mockery.com by February 25, 2007. Please make sure all images are in .JPG or .GIF format and no larger than 500k. Do not post your entries here in the I-Mockery Blog, but if you have any questions feel free to post them here. And yes, you can enter as many times as you like. The more Flag Ninjas the merrier. Once the contest has ended, myself and the other writers will judge the entries and then post them up on I-Mockery for all to see (yes, ALL of the entries will be posted on the site, the winners and the losers). The top 2 entries will each receive a brand new copy of Gymkata on DVD! So get crackin' on those Flag Ninja pics and the pommel-horse action of Gymkata just might find its way into your hands for free in the near future!
For those of you who don't plan on participating in the contest, I hope you'll still pick up a copy of the DVD when it comes out next Tuesday (January 30th) to show your support for cheesy classics like Gymkata. If you don't, a flag ninja just might have to pay you a little visit and set you straight.
22 comments
Leave a Reply
Previous post: Aiiieeeee! The forum is down!
Next post: Busy times and Valentine crimes