7-Eleven is officially in superhero mode - Superman Slurpee cups!
Look up in the sky! It's a bird! It's a plane! It's... a Slurpee!?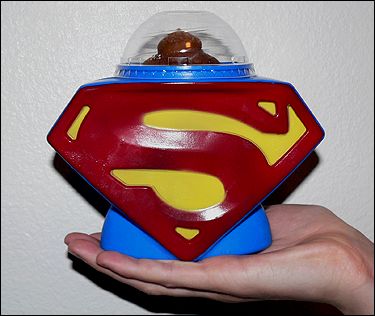 Your eyes do not deceive you. 7-Eleven has just released what is perhaps the most insane tie-in Slurpee cup of all time: The Superman Slurpee Mug. I thought their Star Wars Slurpee cup top from last year where you could drink out of Darth's head was going above and beyond, but this new Superman one takes the cake. If you want to reach a new plateau in comic book geekdom, then this is surely the item for you. This 32oz cup will run you $2.49, which includes a free Slurpee fill with the purchase. But really, in the grand scheme of all things, $2.49 is a small price to pay when you think of all the people who will ridicule you as you walk down the street drinking out of a cup shaped like Superman's chest emblem. That's assuming you make it down the street, because in all likeliness, you'd get hammer-punched in the cock the second you walked out of a 7-Eleven with one of these things. Money usually can't buy that kind of attention.
And yes, they did make a new "Kryptonite Ice" flavor to go along with the new Superman Slurpee mug, but I couldn't pass on my favorite Coca-Cola Slurpee flavor on this particular trip.
Another warning to those of you who (like me) have no shame when it comes to buying ludicrous items like this; be careful when you put the dome lid on these cups, they don't stay on very well. Sure, it tells you to "top it off" but the lids seem to be slightly too large, so all of that extra Slurpee on top could potentially end up in your lap. Consider yourselves warned.
Oh and if you want a little snack to go with your Slurpee, they have a tie-in for that too...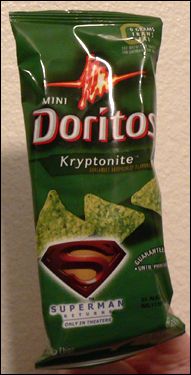 Yes, for a limited time guacamole-flavored Doritos will be called "Kryptonite" flavor. Frankly, you'd have to be a man of steel to survive the combination of guacamole Doritos and a Slurpee.
So there you have it, between Superman and X-Men, 7-Eleven as we know it has been taken over by superheroes. Maybe they can join forces to fight the evils that have been rolling around 7-Eleven's hot dog heater for 5 days straight.
Oh and speaking of X-Men, in case you missed it, here's my thoughts on "X-Men: The Last Stand".
21 comments
Leave a Reply
Previous post: X-Men: The Last Stand
Next post: Ninjas, monsters, and 8-bit rock!