Ren & Stimpy - The Lost Episodes!
I just snagged a copy of "Ren & Stimpy : The Lost Episodes" and I'm absolutely loving it. I hadn't seen this show in ages, and since all of the episodes on this disc weren't available before, it's like continuing where I left off back when the show was first on TV. The humor is still hilarious in that gross-out way that only Ren & Stimpy can do. There's still plenty of those awesome highly-detailed close-ups of nasty body parts (such as an wax-caked ear or an extremely hairy man ass) in addition to the ever-growing fury of Ren. I must admit, it was a bit weird seeing nudity in the show, (ie: the "Naked Beach Frenzy" episode) but it's handled in that silly R&S way that it doesn't come off as perverted at all like some hentai bullshit or what have you. Besides, while Ren is always horny as hell, he always somehow ends up stuck in the darkest crevasses of some hairy manbeast, rather than with the beautiful girls he's been drooling over. It's just pure hilarity.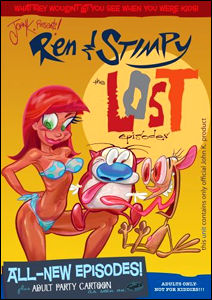 As an added bonus, Weird Al Yankovic introduces the DVD and you just can't go wrong with Al. After growing up on his musical parodies, and worshipping the movie "UHF," I'll always be a Yanko-fan. "You make me want to staple bagels to my face, and remove them with a pitchfork!" Turns out John K. (creator of Ren & Stimpy) did the artwork for one of Al's upcoming music videos, so keep an eye out for that one.
So here's a question, if you had to pick your favorite Ren & Stimpy cartoon moment, what would it be? I'm torn between Ren going absolutely insane in the "Space Madness" episode where he shows his adoration for his beloved ice cream bar, and Powdered Toast Man always flying backwards. I don't know why, but I always loved that. So yeah, what's your favorite Ren & Stimpy cartoon moment?
Side note #1: The 2006 San Diego Comic-Con Photo Gallery is up! Check it out!
Side note #2: PoX just put up his PickleMan's Breakfast Battle movie on Newgrounds. Help it out by watching it and voting for it! Click here!
41 comments
Leave a Reply
Previous post: Headed to the Comic-Con tonight!
Next post: A visit to Venice Beach!