The Weird Al Show
After seeing Weird Al do the intro on that Ren & Stimpy DVD I mentioned recently, I was reminded that he also had a TV show for a little while. So I just got a copy of "The Weird Al Show" on DVD and it's absolutely great. I don't know why, but I never saw the show when it originally aired, but I always heard that it was entertaining. Being a huge fan of his highly underrated "UHF" movie, this is the closest thing to a sequel us fans could get.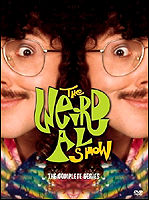 So the premise of the show reminds me of Pee-Wee's Playhouse in a way, as there's a variety of skits intermixed with Al doing wacky things in his crazy looking home 20 miles below the surface of the earth (I *really* want that eyeball chair of his, sorry Pee-Wee, it kicks Chairy's ass). Having never seen the show in the past, I'm kicking myself now for missing it when it originally aired because he had some awesome guest stars appear on it. I mean really, if you knew a show had guests like Emo Phillips, John Tesh, Tony Little, Macho Man Randy Savage, Dick Van Patten, Fred Willard and Fabio... wouldn't you make damned sure that you watched it constantly? Yeah, me too. Oh well, at least I can make up for missing out on it now since the whole series is on this DVD. It's clear to me now that the show was far too short-lived.
The other thing I gotta say is that the Weird Al Show theme song for rules. It's one of those super-wordy Al tunes (much like "The Biggest Ball of Twin in Minnesota") that you'd love to be able to memorize, but probably don't have the time or dedication to do so. Well, it does include a karaoke feature on the first disc so you can attempt at singing along with the tune. Maybe I'll record myself sometime performing it for your amusement. In the meantime you can download the song and practice singing it on your own. Who knows, with enough dedication, you'll be as good as this guy.
On an unrelated note, I put up the photos from the Japanese supermarket as promised so be sure to check that out. And also, I decided that the rainbows you all sent in were too good to just reserve for a mere blog post - so I formed a new site where all drawings of puking rainbows can live in nauseating glorly. Behold!

If you haven't already sent in a drawing of a rainbow puking up a rainbow, make sure you do so your artwork can be immortalized on RainbowPuke! I have a bunch o' new pics to put up on the site and I'll try to have them online in the next day or two.
9 comments
Leave a Reply
Previous post: Snakes, planes & automobiles.
Next post: Less Than Meets The Eye