Sorry about the lack of updates to the blog so far this week, I've been so busy working on a variety of articles that I haven't even had a chance to make a new post here. The good news is that one of the articles I've been writing is probably one of the longest Halloween movie reviews I've done in quite a while. Can you guess what movie it is? Well, you won't have to wait much longer as I expect to be finished with it by early next week. Oh the anticipation!
So today I would like to talk about two random Halloween novelty that I feel deserve some attention: Zombabies and the Crawling Brain. First up, Zombabies...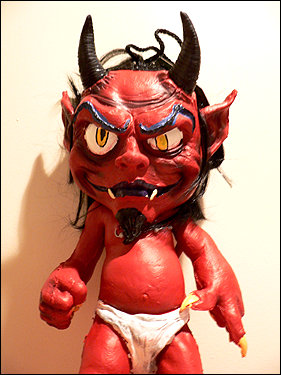 Meet Scratch. He's one of the characters in the new Zombaby collection over at Fright Catalog that are just dying for you to adopt them. I like to think of them as Cabbage Patch Kids for horror fans. While Shivers is probably my favorite character in the collection (he's a skeleton who's wearing a bony jumpsuit, how can you top that?), Scratch isn't too shabby either. First off, check out his eyes. His left eye is just pure yellow with no iris. Granted, I think that's just because of a weak paint job on that part, but it gives his character a more crazed look if you ask me. Furthermore he died his eyebrows blue. How many people do you know that just dye their eyebrows blue? I'd wager not too many. But that's not the best part...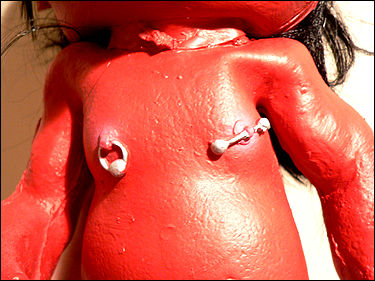 He may be an infant, but that didn't stop him from getting his nipples pierced. Excellent. I bet if you could take off his diaper, you'd find something else pierced as well. This baby... er... zombaby is clearly ready to rock, especially with that giant wobbly head of his. And with that in mind, I filmed a little video of him engaging in some zombietastic headbanging. Click here to watch it!
Next up is Crawling Brain...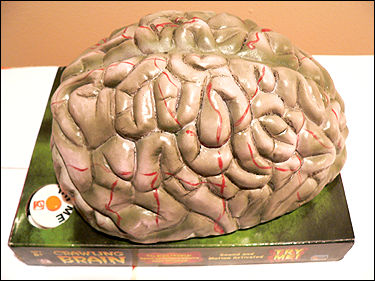 Crawling Brain is easily one of the greatest Halloween novelties this planet has ever seen. It's so simple, yet so completely random and awesome. It reminds me of the animatronic genius of Audrey II from Little Shop of Horrors. You see... it doesn't just crawl...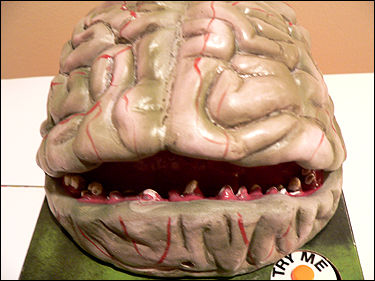 It HUNGERS! That's right, it rolls around on the floor and then the frontal lobe opens up to reveal a mouth filled with sharp teeth as it growls at you. And here's the kicker; before it does all this? It hums a happy little tune. I wouldn't have believed it if I hadn't seen it with my own eyes and neither will you. Here's a quick video I took of the crawling brain in action: Click here to watch it!
So whaddaya think about these two spooky novelties? Perhaps some day in the future I'll have Zombaby, Crawling Brain and other Halloween novelties go on some kind of epic adventure together. Only time will tell I suppose.
Well anyway, tonight I'm headed off to what's supposedly one of the largest, most amusing Halloween attractions in the country - Knott's Scary Farm! You can expect a full, detailed report on it in the next week! And this now leads us to our random survey of the day...
Random survey: What Halloween attractions are you going to check out this year? Are there any spookhouses, graveyard ghost hunts or things like that around where you live? If so, share the details with us! (and pics if you've got 'em)

What can I say, I like making holiday foods. Ok wait; lemme correct that statement: "I like making holiday foods as long as they come pre-made and all I really have to do is put them on a tray and throw them in the oven." Yeah, that's more like it. I always look forward to whatever DIY Halloween snacks come out each season, and this year they're not letting me down at all. Nestlé has some new Toll House Halloween Cookies that rock the Knox blocks.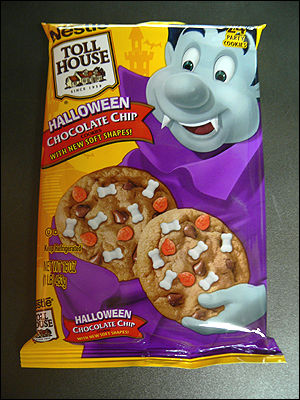 In addition to them being the soft 'n warm chocolate chip cookies that, much like Thriller, no mere mortal can resist; these cookies come with bones and pumpkin faces! But I understand you might be skeptical about that. Sure, it looks great on the packaging, but there's probably hardly any of those soft bone and pumpkin shapes included with the cookies right?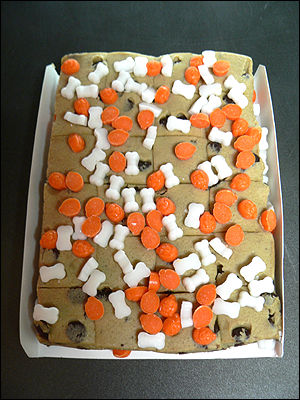 Wrong. They added an almost absurd amount of the festive Halloween toppings onto these cookies. Can you even see the cookies underneath all those shapes? Kudos to Nestlé for increasing the sugar-intake on each cookie tenfold. 24 cookies covered in chocolate chips, bones and pumpkin faces? Sign me up. (they also make Brownies like this too if cookies aren't your thing)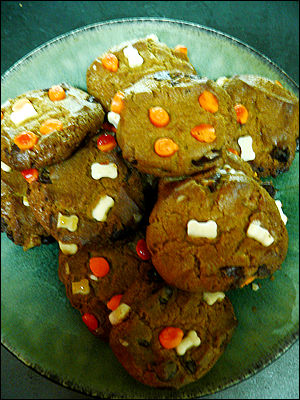 The cookies taste great and since they were on sale with two packs for 4 bux, I'm sure I'll be bouncing off the walls from a sugar high in no-time. Speaking of which, why am I talking to you people? I've got a PLATE of cookies to eat.
Another random Halloween survey: What's the absolute scariest horror movie you've ever seen? I'm not talking about the "Haha! That sure was scary!" kind of scary here either. I'm talking about the "Thinking about it makes me wet the bed and clutch my security blanket tightly because that movie was so goddamned horrific!" kind of scary.

One of the cool things about running this site over the years is that I sometimes get emails from people who were involved in the making of the movies, games, products and other things that I have featured on I-Mockery. The other day I received an email from Robin Navlyt - the actress who was inside the costume of Slimer from Ghostbusters 2! She saw the "10 Things I Liked About Ghostbusters 2" piece and was really happy to see herself wiggling around in the Slimer costume. What's more, she hooked me up with some photos of herself getting into costume and I thought you would all like to see 'em!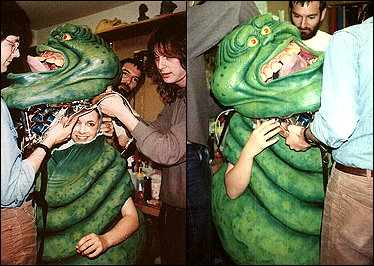 Can you imagine how much fun that role would be? "Yes, we'd like to cast you for the part of Slimer. You get to wiggle around in the Slimy ghost costume... and eat lots of hot dogs." Ok, so Slimer didn't eat any hot dogs in the Ghostbusters sequel like he did in the original movie, but I bet you somewhere, there's some lost footage of our favorite green ghost doing just that in part 2.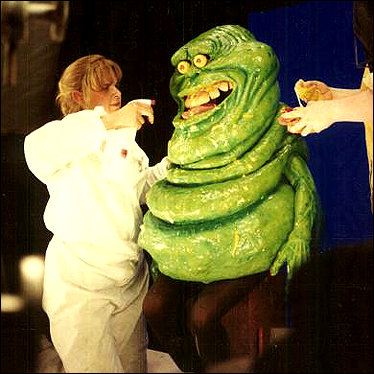 And here she is getting slime-ified while in the Slimer suit. It's pretty weird seeing Slimer with legs isn't it? Well anyway, I just wanted to say thanks to Robin for stopping by to say hi and for sharing the pics. Keep on Slimin'!
In other news, I got some interesting guts in the mail from Fright Catalog today. Normally I wouldn't think much about sticky eyeballs, ears and fingers since they're fairly commonplace novelty items come Halloween each year. However, these ones were part of the "Cannibal Meat Market" line - and thus they come packaged as if they were picked up from your local grocery store butcher. Check out a close-up of it here.
I like how they actually go the extra mile and include all the nutritional information. Who knew that eyeballs, ears and fingers were only 50 calories. Anybody looking for the a new diet fad? I think I've found your solution right here. They also make a nice recommendation: "*Best served with a glass of chilled blood." In all honesty though, these little sticky body parts don't hold a candle to the other ones they sell such as the Cannibal Meat Market brain and the foot. Take a look: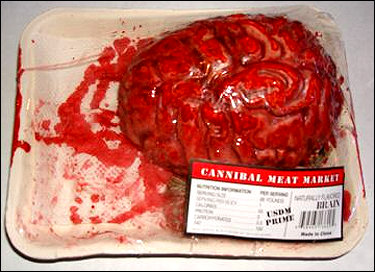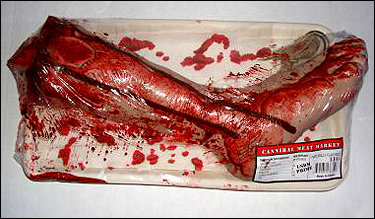 How's that for some nice Halloween decorations? It's funny; as tempted as I am to take this stuff out of the package and gnaw on 'em for a little while, that would basically defeat the purpose of it. The whole allure of these items is in how they are packaged, so I guess they're unique in the sense that you wouldn't really ever want to open them. You can check out the other ones that they're selling - including a hand, a heart and even a peeled off face - at this link. FrightCatalog has always been real cool to us over the years, so I never mind dropping a little plug for them too. That being said, if you want to buy anything from their site, be sure to enter in code "IMOCK5" during your check out and you'll get an extra 5% off the order price.
By the way, I strongly suggest you read through our latest horror movie moment about "Wishmaster" because there's the start of something in it you'll want to keep an eye out for in our articles throughout October!
On a final note, thanks for all the support you guys gave us in September. I can't believe we've already done a full month of Halloween content and still have another month's worth to go. It's been an absolute blast so far, and you can expect to see much more spooky stuff throughout October - including some really big pieces! And by "pieces" I clearly mean articles, not body parts. OR DO I? Ooooooooooooooooooooooooooo!
Random survey: What are you dressing up as this Halloween? Share the details in this thread!