Yo ho ho and a bottle of 2007!
I'm back. Didja miss me? Sorry for the blog absence over the past week 'n a half, but I promised myself a nice long vacation away from the computer after working on the site nonstop for the last four months. And what a vacation it was. The drive up the PCH to San Francisco was easily one of the most amazingly scenic drives I've ever done - and that says a lot when it's coming from a guy who just drove across the entire friggin' country last year. Between the vast ocean views, the rock slides and the constant reminder that if I took any turn too fast our car would plummet into a watery abyss - I can't recommend doing that drive enough. It was like being in a video game the entire time. Only, if you lose, they don't instantly replace your car with another one. If you lose on this road, they find your car in the water somewhere with your corpse half-eaten by sharks. SHARKS.
San Francisco was really interesting and it's a city I definitely need to visit some more before I can form an official opinion on the place. I will say this though... you'll never find a more insanely hilly city than San Fran. Imagine an entire city laid out over the humps of a giant camel and that's San Francisco in a nutshell. Our hotel was one of the best and most interesting ones I've ever stayed at, but I'll share more details and pics from that place later on. Didn't do too much touristy stuff while we were there, but we did get to take a tour of Alcatraz which was extremely badass, especially since the guy speaking sounded a lot like R. Lee Ermey. Union Square had plenty of shopping to do, but the homeless seem to accost you every 5 feet in that area. Seriously, if you were to give money to every person that asked you for change as you walked 2 blocks in union square, you yourself would become homeless by the end of your journey.
Haight ("hate") Street, on the other hand, was really cool. Much like a South Street in Philly, or a St. Mark's Place in New York, or a Melrose in L.A., Haight Street had all sorts of nifty independent shops and food joints - including some of the best pizza I've had since I've been on the West Coast. They also had another Amoeba Music store there and I can spend HOURS in that place alone due to their immense CD and DVD selections. While I was there I finally scored a copy of the original Maximum Overdrive DVD release. Why is the old one better you ask?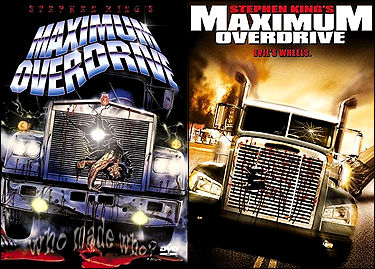 Old vs. New
I rest my case. Screw any company that dares to change classic movie poster art when re-releasing a DVD. I see it happening more and more often these days and it's atrocious. I'll take classic hand-drawn poster art over any badly Photoshopped, toned-down modern "art" any day.
Anyway, after San Fran, we headed farther North to check out the giant Redwoods. If you want to get away from everyone and everything you know, there are a few places you can go - the ocean, the desert, and the Redwoods. Seriously, it was a much longer drive up to them than I had expected, but still scenic, so it wasn't a bother. The Redwoods were very impressive and yes... we did drive the car ththrough the tree. I'll have pictures of that to share in the next week or so along with others I'm sure. It's truly amazing how much more interesting driving up the West coast is compared to the East. While the East Coast could put me to sleep within minutes, I find myself wide-eyed with wonder wherever I drive out here. Completely different worlds. We were also gonna check out the Sequoias and Yosemite, but they were snowed out so we'll have to try that some other time because we don't have snow tires for the ol' Honda Civic.
All in all, a hell of a good vacation. I'll be posting pics from it at some point I'm sure, but right now I'm busy getting caught up on a million things, writing some new articles, and getting a bunch of new features ready to launch on the site in the coming months. Stay tuned for more details on all that stuff.
Some people have asked how I made out with gifts 'n stuff over the holidays and my birthday. I can't complain about that stuff because I consider myself lucky to get any presents. I got some really nice gifts from site visitors including "Mario vs. Donkey Kong 2" for the Nintendo DS (KONG!), "Rampage Total Destruction" for the Wii (a system I'm still waiting to buy, mind you, but it's gonna be a blast playing it 4-player style whenever I make four friends), a spook-tacular Boo Berry Bobble-Car (from an anonymous person, oooooh!), a copy of "The Ice Cream Man" on DVD (absolute cheesy horror wrapped in a waffle cone), and a bootlegged copy of Jaws rip-off movie called "The Last Shark / Great White" (can't wait to watch the giant rubber shark in action). Finally got the "When We Were Very Maakies" book too (hooray Drinky Crow!) and I'm already prepared to buy more of 'em. Mega-thanks to all of you sent stuff, can't tell ya how much I appreciate the generosity! And to those of you who didn't send anything, you're a bunch of cheap bastards for taking all this free entertainment and giving nothing in return. I'll see you in hell. I kid, I kid!
For my birthday, Re got me a limited edition Fossil watch that I had wanted for ages. It loops an animation the classic Asteroids game in the background... check it out: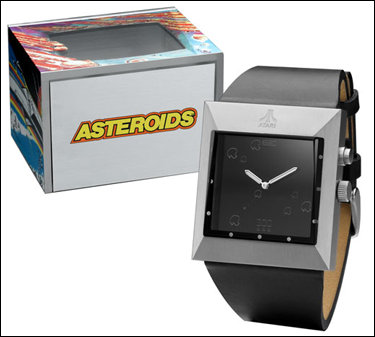 My wrist has never been so happy. She also got me one of those cool new McFarlane 3-D movie posters for Friday the 13th. They make a bunch of 'em and more are on the way including Elm Street, Robocop and Silence of the Lambs, but from the ones released so far, I gotta go with Friday the 13th as being the best simply because there's a lot going on in the poster. The Jaws and Aliens ones still look nice though and I'm sure I'll eventually get 'em all.
The biggest birthday surprise, however, was that my entire family joined forces to get me a gift certificate to Guitar Center so I can get a new guitar. I've been playing on the same cheap guitar that I started learning on 15 years ago, and while I love it, it would definitely be cool to practice on something a little better in terms of quality. It's one of those things I've always talked about doing, but never actually did it and would've still probably put it off for another 15 years if they hadn't gotten me the gift. So now I'll be going to Guitar Center (and other music stores) to try out countless guitars until I find "the one". I'll be sure to post a pic of "the one" whenever I get it, but being a nitpicky bastard, I'm sure it'll take a while before I can settle on something. I just hope my old guitar doesn't hold a grudge against me for cheating on it. You know I love you baby, I just need a little variety!
All in all, a helluva nice haul if I do say so myself. Now it's your turn to spill the beans on whatcha got! Hope you all had a great holiday and New Year's!
Survey #1: Share in detail your holiday haul with the rest of us. Spare no details. If you got underwear from grandma, I wanna know what size and brand!
Survey #2: Give at least one example of a DVD release in which the original movie poster art was completely bastardized on it. There's loads o' bad ones out there, so let's see your top picks! (hmmm, I'm smelling a potential for an article here actually...)
42 comments
Leave a Reply
Previous post: Have yourself a Drago little Christmas…
Next post: Bruce Campbell + Old Spice = Groovy