Easter candies galore, Zelda and Grindhouse!
I've never been a huge fan of Easter, it's just one of those so-called holidays that come and go without much hoopla. Actually, Easter is the only holiday that simultaneously allows you to celebrate a guy who was brutally nailed to a cross and fluffy white bunnies. That's a pretty awesome dichotomy. But hey, if nothing else, with Easter's arrival, you can always expect some tasty candies. Naturally, I horde bags upon bags of my favorite Cadbury Mini Eggs whenever Easter rolls around. But there are some other candies deserving of your attention this season.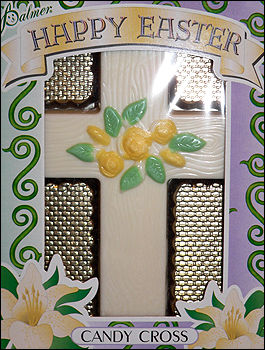 First up is a candy that I just don't get - Palmer's Happy Easter Candy Cross. Maybe it's just me, but isn't it just a bit sacrilegious to make an edible crucifix? I mean, I don't see them making edible baby Jesus chocolates come Christmas each year... though they should. Well, all I can say is this...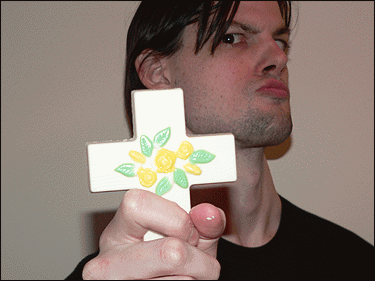 Being a heathen sure is delicious!
Next up on the candy list is Jelly Belly's Prehistoric Egg. I'm not sure what dinosaurs really have to do with Easter, but at least they lay eggs. And Easter is ALL about the eggs, right? Right.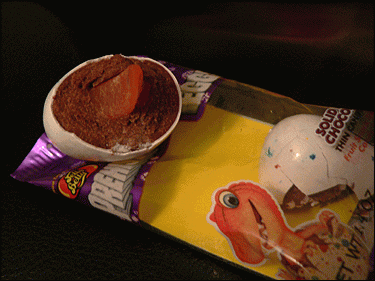 If you've gotta go, I supposed being fossilized in a chocolate egg isn't a bad way to go. Still, while I appreciate the novelty of the item, the combination of solid milk chocolate and a chewy dinosaur fruit snack in the middle just isn't working.
And, of course, no Easter would be complete without Marshmallow Peeps candies. Now we've all had the Marshmallows before, but there are some other Peep things on the market this year:
Lollipop rings, push-up pops and chick & bunny candy with Peeps stickers. All of these candies look nice as you would expect, but the one thing I don't understand is why they insisted on making all of them taste just like Marshmallow Peeps. I love Peeps as much as the next guy, but I'll be the first to admit that they're not exactly the tastiest things on the planet. Fact is, if you eat more than one at a time you'll probably start to feel nauseous. With all these new candies they had the opportunity to brand outside of the standard marshmallow flavor, while still maintaining the awesome Peeps style. Trust me when I say that a marshmallow-flavored lollipop is one of the strangest things you'll ever taste. Ah well, at least they all look good.
Be sure to take a stroll down I-Mockery memory lane and check out some of our old Peep-themed pieces:
-The Marshmallow Peeps Marshmallow Maker!
-Marshmallow Peeps in Outer Space!
-The Quest for Peeps!
And don't forget, I'm interviewed in the "The Power of the Peep" documentary that's due out next year. Can't wait for that one.
In other news, my brother gave me a copy of "Legend of Zelda: Twilight Princess" for the Wii to try out. So Re and I were playing it late last night when all of a sudden Link gets angry, starts twitching and turns into a wolf. A WOLF!? Granted I haven't played (read: "been interested in") a Zelda game since A Link To The Past on the SNES, but just when in the hell did the series start implementing elements to entertain people with a furry fetish? Seriously, if he doesn't turn back into the sword-slashin', slingshot-packin', creepy-eyed elf pronto, I just might have to stop playing this game forever. Keep the animality stuff with Mortal Kombat, damnit.
Furthermore, are there any more shape-shifting horrors that await me in this Zelda game? If he turns into a goddamned butterfly, I just might have to kill the world.
Yesterday, I got to catch an early showing of "Grindhouse" at one of the biggest theaters around and it did not disappoint at all. In fact, I can't remember the last time I've been so entertained by a movie. It's really hard to say which of the two movies I liked better, I'll probably have to see it again before I can make any official decision. I will say this though; Tarantino continues to impress the hell out of me. I honestly don't think anybody out there is better at writing dialogue that comes off as completely natural as his does. And Kurt Russell? Even after all these years, he is still THE MAN.
Survey: What's the craziest thing you've ever seen packaged in one of those giant store-bought Easter baskets?
Survey #2: Who saw "Grindhouse" this weekend? Which of the two movies did you like better and why? What was your favorite "fake" trailer?
54 comments
Leave a Reply
Previous post: FlavorProtect? I call bullshit! Also: the Indian Butter Trick!
Next post: Aqua Teen Hunger Force Colon Movie