Dig my little ants… dig!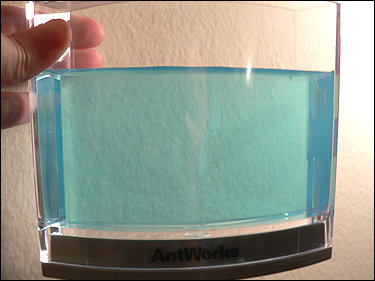 As I mentioned in my last post, I now own the Antworks Illuminated Ant Habitat thanks to one generous I-Mockery reader. I didn't have too much to post about it at the time because the ants I ordered for it hadn't arrived yet. But they're here now, and man are they busy in their slimy new home of gelatinous blue goop.
Unfortunately, only five of the twenty-five harvester ants I ordered using the coupon that came with the Antworks kit survived the trip (even though I put a rush order on them). Actually, I really have no way of knowing if they just threw a bunch of dead ants in there and mailed them to me or not. Still, I sent them a complaint and hopefully they'll send me some extra ones soon. I understand that not all of them are expected to survive the trip (especially considering how the postal service has literally mangled some of my packages to the point where you would think they had been raped with a circular saw) but five ants is still pretty weak. Nonetheless, they've kept me plenty entertained as I watch them adjust to their new space-age home.
So the way it works is you start off by creating 4 small "starter holes" to help the ants get started with their tunneling. Sure enough, one of the ants started digging in one of the holes I had created about a day later. Then another ant, who will be known as "Rebel" from here on out, decided to go against the will of his captor and start digging a brand new hole of his own in the corner of the habitat. What's more, after he started doing this, he convinced all of his other ant pals to help him out, including the ant that had started digging in the hole I had created for him.
A funny thing happened though before the first ant finally joined the others. That one ant took some goop from his hole that I had created and covered up Rebel's hole with it. LOL. YOU GOT ANT PRANKED!
Anyway, once their tunnel reached the base of the habitat, they created a second artery from inside it which leads all the way back up to the top. The result of all this digging has created a large pile of goop on the surface which the ants are all too happy to sleep and snack on. I also think they're creating this pile as a makeshift ladder in hopes of reaching the ceiling.
Oh, and for anybody who's considering getting one of these Antworks habitats, I highly recommend getting the one with the glowing blue LED light base. After all, what's better than watching ants eat and dig their way through blue goop? Watching them eat and dig their way through glowing blue goop.
And now, some pics of the ants and their handiwork:







Click any of the above pics to enlarge!

25 comments
Leave a Reply
Previous post: Burgertime Baddies Battle!
Next post: Memorial Day Weekend Plans?