One Otter to cool them all!
As the weather gets warmer and warmer in the summer months, there's one thing that we're all likely to indulge in more often: ice pops. Yes indeed, on a super hot day, those frozen treats can sometimes be the only thing standing between you and certain death. With an ice pop in your hand, you can laugh at the heat. With an ice pop in your hand, you can hold it high above your head as if it were Excalibur as you shout at the sun, "Gimme your best shot pal, I can take it!" With an ice pop in your hand, you control your own destiny!
Ok, well maybe your experiences with ice pops aren't quite so centered around such violence and drama, but I think we can change that. Today it is finally time to put some infamous icy treats up against one another for all out war. Oh yes, today it is time for...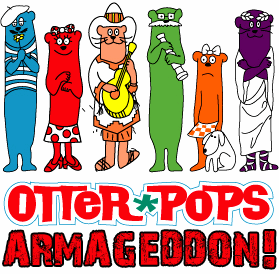 Otter Pops! Louie-Bloo Raspberry, Strawberry Short Kook, Sir Isaac Lime, Poncho Punch, Little Orphan Orange and Alexander the Grape. You cannot deny that you have a favorite Otter Pop and now it's time for you to prove why he or she is the best of the bunch. The question is simple: If all the Otter Pop otters were to engage in battle, which one would be left standing and why?
As usual, make sure you've backed up your choice with supporting evidence before you perform a verbal coup de grace on the other otters. After all, if you choose a weaker otter, he/she won't be able to protect you from the physical onslaught of the otters you impetuously dismissed. For the record, I've seen what these otters can do to somebody who they're pissed off at and believe me, you do not want to get on their bad sides.
42 comments
Leave a Reply
Previous post: Memorial Day Weekend Plans?
Next post: The Doritos X-13D Flavor Experiment