Three Transformers toys that will make your head explode
As you've probably noticed, we covered a bunch of Transformers stuff on I-Mockery this week in preparation for the sure-to-piss-on-our-memories Michael Bay movie. Yes, I've been completely distracted by the fact that there is now a Kwik-E-Mart right down the road from where I live, but I refuse to let it stop me from getting my work done. Drinking 50 Blue Vanilla flavored "Squishees" can only make me healthier and stronger, right? Right! Anyway, for our Transformers coverage, Protoclown did a piece about all the cheesy new Transformers movie toys and a new Protocomic based on an old Transformers/Spider-Man comic book , Dr. Boogie covered a godawful Transformers rom hack of Super Mario Bros 2 which most likely came from the bowels of hell, and I did my best to remind everybody about how cool the Transformers really were back in the day with a look at the original movie.
Still, there were three things I wanted to touch on about the Transformers that didn't make it into any of our articles, so I'm gonna tell you about them here in the ol' blabber blog instead. Hooray for blabber! Hooray for blogs! Hooray for blobber! Ok, first up are the Transformers Movie Plush Dolls: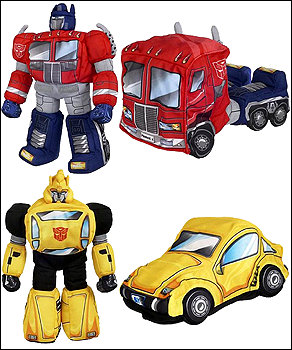 You wanna know what really pisses me off here? They made them look like the classics! Why couldn't ALL the new toys look like the classics? No, us fans of the original series get friggin' pillows. Not just pillows, but pillows which strip away ANY REMAINING SHREDS OF DIGNITY some of our favorite characters once had by giving them names like "Softimus Prime" and "Slumblebee". Not only do they look like wrinkly old men instead of robots made of steel, but now they have names that would surely make them cry out tears of energon. Thanks Hasbro. To their credit, they actually figured out a way to make these pillows transform from robot mode into vehicle mode (kind of like how the Popples changed from balls of fur to... uh... Popples), so kudos to the mad seamstresses over at Hasbro. We can't cure cancer, people, but we can make a pillow that transforms from a robot into a vehicle. Look, it's all about priorities, okay?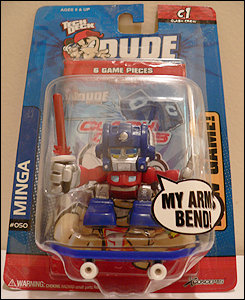 Next up is this little toy I stumbled onto in a Walgreens last week. Though it's not an official Transformers toy, nor does it give credit to them in any form whatsoever, Tech Deck Dude Evolution's "Minga" figure is clearly a blatant rip-off of Optimus Prime. He's super-excited about the fact that his arms bend and his bio on the back of the package is interesting too. Did you know he's from Kalamazoo, MI? Neither did I. Still, for you hardcore Transformers fans out there, you'll be hard-pressed to find another figure of Optimus Prime in which he is a) Riding a skateboard and b) Holding a light saber. And since I know you guys would hound me if I didn't post it, here's a nice big close-up of Optimus riding on his skateboard with light saber in hand.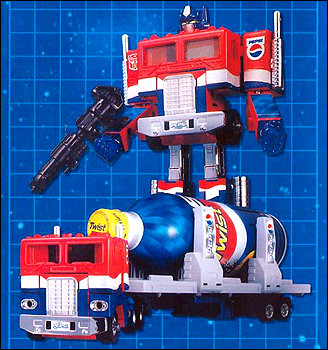 Last but not least, my all-time favorite, completely random Transformers toy: The Optimus Prime Pepsi Convoy! We all know that Optimus Prime has always been a hero, but who do you turn to when your thirst is in its darkest hour? You turn to Optimus Prime and his Pepsi Convoy, that's who! He'll roll on out and fill your gullet up with peptastic goodness so you can go on with your day. The great thing about this toy is that it really does hold Pepsi bottles. Optimus Prime easily beats out one of those foam cozies as the best place to store your drink any day of the week. Unfortunately, this one was only released in Japan in 2005 (and at the 2007 BotCon) so you'll have to snag it on eBay, but it's definitely worth getting if you're a collector of oddball items like I am. I should note that there was also an Optimus Prime Pepsi figure promotion way back in 1984, but as you can see, it only comes with a set of stickers and is not nearly as good as the 2005 one that can actually hold soda bottles (not to mention they actually changed his paint job to match the Pepsi logo). And if you're still not sold on the Pepsi convoy, perhaps this print ad will do the trick: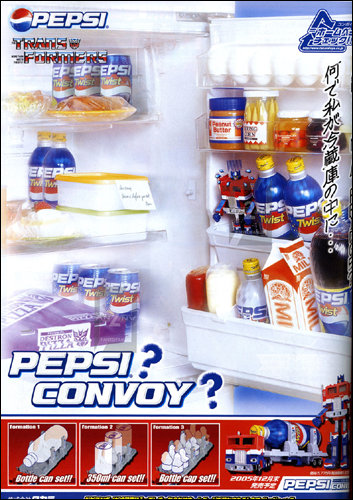 Click to enlarge
Damnit, I want that Destructicon pizza box.
30 comments
Leave a Reply
Previous post: New Contra game headed for the DS!
Next post: Dinner With Destructoid and a bizarre menu item!