Dinner With Destructoid and a bizarre menu item!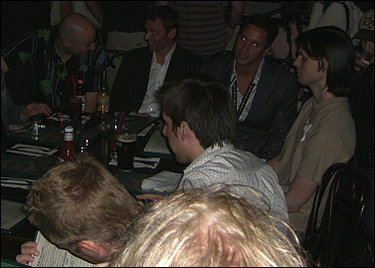 My pals over at Destructoid are in town for the E3 conference and we finally had a chance to meet up in person last night. We decided to eat at a place called "Ye Olde King's Head" - a British pub/restaurant in Santa Monica. Really cool place that's known for having really good fish 'n chips. Not being big into seafood, I had a burger which was pretty damned good, but the fish 'n chips were truly a spectacle. Those things were friggin' huge. It's like they yanked Flipper out of the sea, baked him inside a cake and then deep fried him. I think just one order of those could feed 3 people and then send 'em straight to the hospital for an emergency triple bypass shortly thereafter. Most impressive. We had a table for about 13 people and more kept showing up from all over including Dave from Cheap Ass Gamer who told me what it's like to be a tall American guy living in Tokyo. I still have to visit/live there some day. Domo-Kun demands it. Big thanks to our host, Niero, along with everybody else who helped make our table completely chaotic and fun time. It was great meeting all of ya!
Speaking of E3, Nintendo not only announced a Mario Kart online version for the Wii due out in early '08 (finally!), but they also announced Wii Fit which will apparently get people to start using their Wii as a legitimate exercise machine. You'll be able to do 40 different exercise routines including things like balancing and push-ups, and it will even track your progress as the months go by. As if the Wii didn't already dominate the market in sales, this is going to be sheer madness. I can't wait to post my progress charts... I'm soooo going to kick all of your asses. Actually, no... my chart will probably just have the word "FAIL" in big bold letters plastered all over it.
Anyway, getting back to the topic of eating at restaurants, Re and I have this one favorite little Italian place down in West Hollywood. It's one of those hole-in-the-wall places that I can't even remember the name of... something generic like "New York Pizza & Pasta" I think. Anyway, the food there is always good and they've got awesome garlic knots with marinara sauce (being from New York originally, it's hard to find really good/comparable Italian food on the West coast in case I haven't mentioned it before - watch "My Blue Heaven" for further proof). One of the bonuses about eating at this place is that you always get a laugh while reading the menu since there are a lot of misspellings on it. But that's not the best part... the best part is this: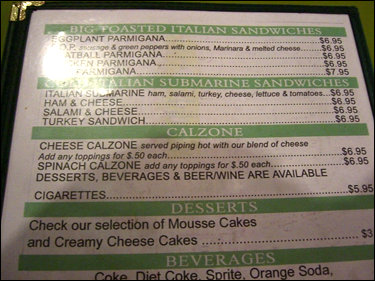 Hrm, what's out of place in this picture? Gee, I wonder... could it be the Cigarettes in the Calzone category? Let alone the fact that it's amazing to see cigarettes on a food menu, the fact that they were just thrown in with the calzones because they couldn't find any other place to put them on there is hilarious. Now I don't smoke but I swear, one day I'm gonna build up the nerve to order a cigarette calzone so we can have a conversation that goes a little like this...
WAITER: Would you like to order now, sir?

ME: Yes, I'll have the cigarette calzone please.

WAITER: No, no, no! It's just a pack of cigarettes for sale, not a cigarette calzone.

ME: What!? You mean to tell me you don't carry cigarette calzones!? And you have the gall to call yourself a New York restaurant!? Good day to you sir!

WAITER: But I... I...

ME: I said GOOD DAY!
Look, sometimes I have to live these fantasies out in my head because I know there's no way in hell they'll ever happen like that in the real world.
SURVEY: What's the craziest thing, food or otherwise, that you've ever seen on a menu? Include any details you can about it including what establishment you saw it at.
30 comments
Leave a Reply
Previous post: Three Transformers toys that will make your head explode
Next post: It's 3am, do you know where Chyna is? Also, it's Friday the 13th!