I-Mockery and Upright Citizens Brigade, sitting in a tree…
As many of you know, I-Mockery spearheaded a big campaign to get the first season of the Upright Citizens Brigade released on DVD. Thousands of people signed it and some even hand-delivered it to Comedy Central's offices, and as a result, the DVD was released (and season 2 is finally on the way). The original cast members were even cool enough to send me a nice "thank you" package in the mail a while back. Truly spiffy stuff...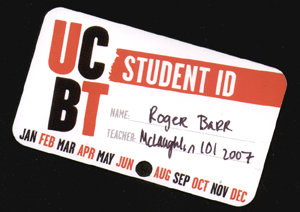 Well, I didn't really tell anybody about this, but over the past two months I've been taking long-form improv classes with the Upright Citizens Brigade. It's something I've always been interested in, and getting to train with the UCB alumni is one of those LA opportunities that I simply could not pass up while living out here. It also proved to be a great way for me to get out from writing behind the computer all the time and instead get up on stage. The class really kept all of us on our feet at all times... constantly making you think and act fast. Having seen UCB's "Asssscat" show live, this class only made me further appreciate just how talented those guys really are.
Anyway, for our final class assignment, we actually got to put on a show last night at the UCB Theatre here in LA. I, like many others, were worried we were gonna absolutely suck, so I didn't bother inviting anybody because I didn't want to waste their time. I mean, how could we not suck when you see what the UCB veterans were capable of doing? Amazingly enough, our class did far better at the live show than we ever did during our classes. I guess we all somehow reacted better to the added pressure of a live performance.
All in all, it's been a great experience for me and I had a lot of fun doing the show. I even got to emerge from a pregnant scientologist's womb as the almighty Xenu in front of a live audience! How many people can say that?
I definitely plan on taking the level 2 course, but I'll probably hold off 'til next month since the rest of July I'll be busy with hunting for a new place to live and the San Diego Comic-Con. Once that stuff is out of the way, I'll be signing up for my level 2 classes. Next time I promise I'll announce the show that I'm going to be in for those of you who are interested in attending. I'm also going to make a point to attend some of UCB's improv jams where we students can join in the action.
Anyway, I wanted to take this opportunity to say thanks to the other students in my class who were a lot of fun to work with and play off of, and of course to our ever-so-helpful instructor, Will McLaughlin.
Don't Think. Viva La Chaos!
14 comments
Leave a Reply
Previous post: It's 3am, do you know where Chyna is? Also, it's Friday the 13th!
Next post: Ice Road Truckers. It's like Deadliest Catch, but far less interesting.